Xeriscaping in Northern Nevada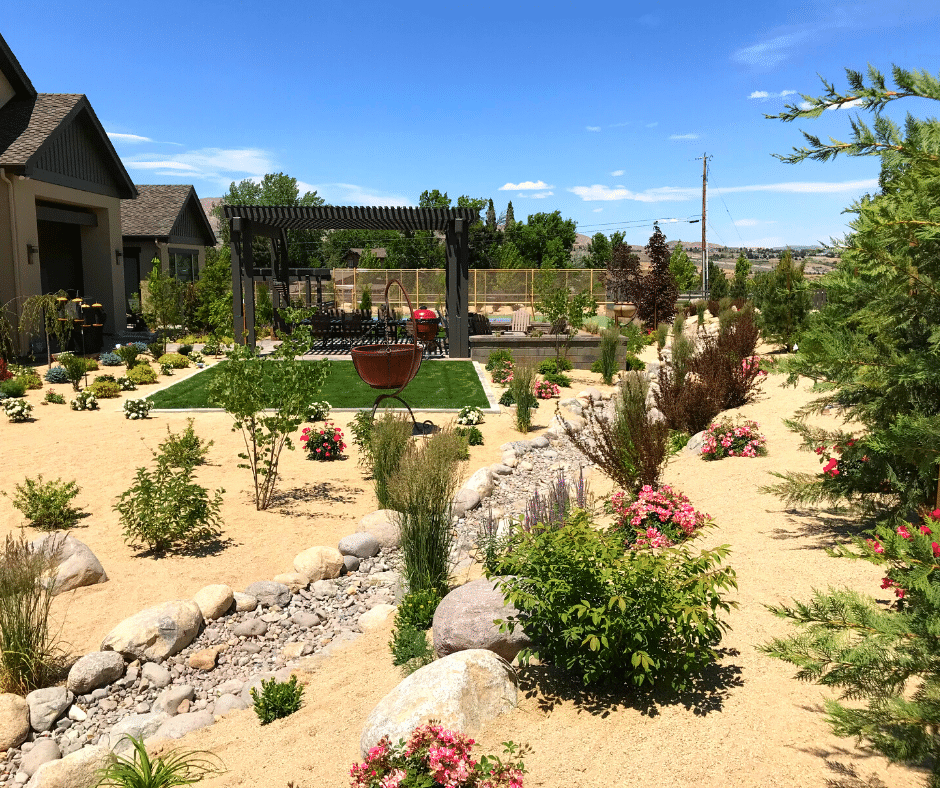 What is Xeriscaping?
Xeriscaping is characterized by low water use plants, desert-style landscaping and sustainable landscape practices. For many Nevada homeowners, water bills are extremely high as a result of irrigating landscape plant material during the summer months. Landscape type and water-efficient irrigation are key to reducing landscape water use and water waste.
We often hear clients call xeriscaping "zeroscaping," though these two landscape styles are very different. Xeriscaping has a design plan and includes plant material, mulches and hardscaping, whereas zeroscaping does not have a thought-out plan and does not include intentionally placed plants, mulches or hardscaping.
Xeriscaping is growing in popularity, especially in places where water resources are scarce, or drought is frequently present. Xeriscape comes from the Greek word "xeros," which means dry. Located in the high desert of northern Nevada, the greater Reno area is arid with less than seven inches of precipitation per year. This means traditional landscaping needs significant irrigation water to stay healthy and beautiful. Turning to xeriscaping can help Nevada homeowners and businesses reduce their water use.
Xeriscaping is one of the best landscape styles for those looking to reduce overall landscape water use. By grouping plants by similar water requirements, selecting plants that require lower water, using mulches and limiting turfgrass to functional sizes, xeriscaping can greatly reduce landscape water use for Nevada homeowners.
Xeriscaping Landscape Style
When many homeowners think of xeriscaping, they imagine decomposed granite (DG) mulched areas with plants sprinkled about. However, there is actually a lot more to the xeriscape style than rock and/or DG mulch and plants.
Xeriscaping is comprised of seven landscape principles that all work together to create a sustainable design. The goal of xeriscaping is to support wildlife, maintain healthy soils, conserve water and reduce runoff of harmful chemicals into waterways.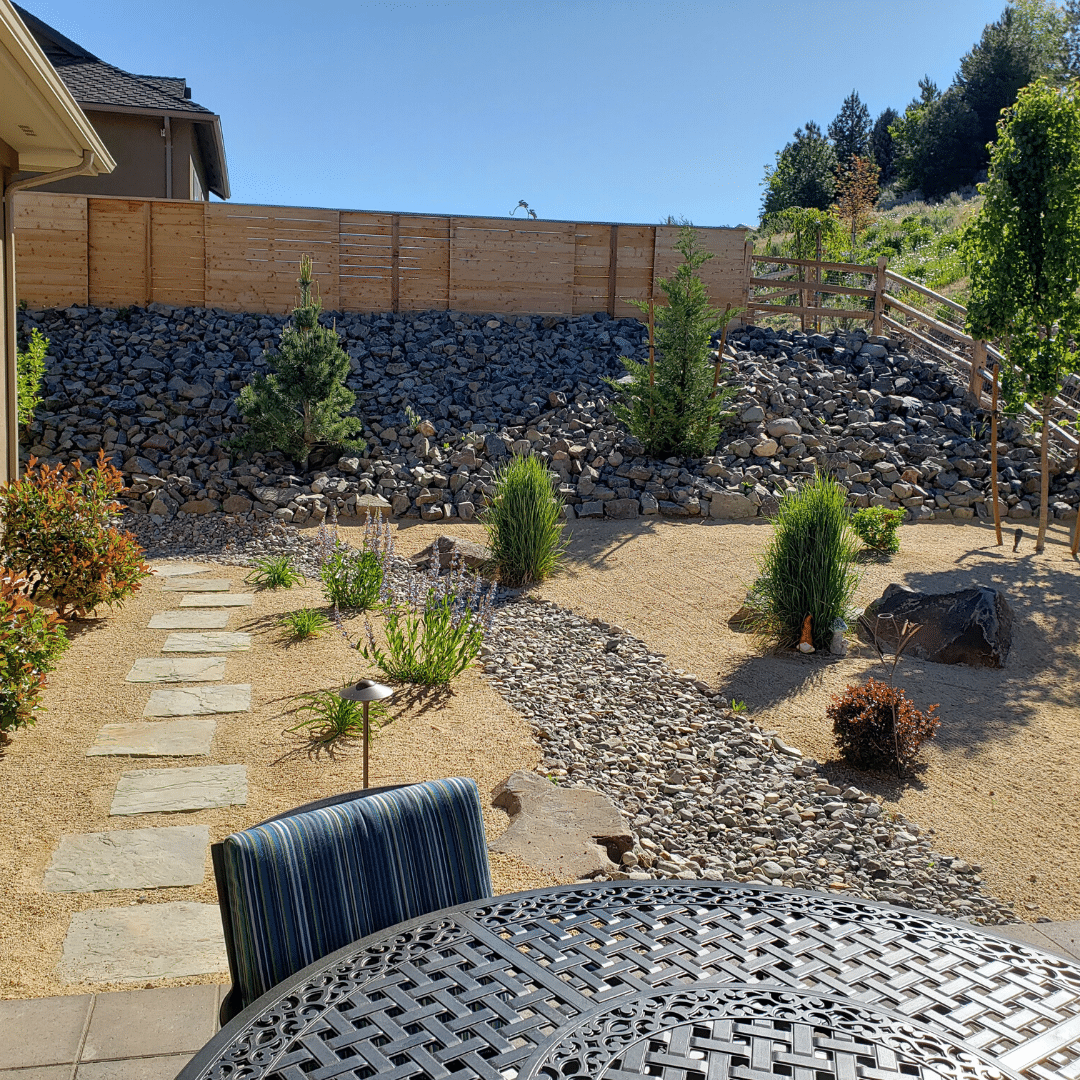 The seven principles of xeriscaping include:
Planning and design – Focuses on water conservation and aesthetics.
Efficient irrigation – Planned out and properly install irrigation systems to apply correct amounts of water with as little waste as possible.
Use of mulch – Reduces evaporation from the soil surface and keeps soil cool.
Soil preparation – The use of soil amendments, such as compost, improves soil health and promotes healthy plants.
Appropriate use of turfgrass – Use smaller areas of turfgrass for functional uses, such as for kids or pets to play.
Selection of low water use plants – Group plants with similar water requirements and choose plants that require less water than traditional landscape plants.
Maintenance – Properly maintain landscaping including, mowing, weeding and pruning.
Planning and Design & Water-Efficient Irrigation
A hydrozone is an irrigation zone controlled by one valve and defined by distance from the home or structure, sun exposure, topography and general environment characteristics. By grouping plants by these factors, you can efficiently water each hydrozone based on specific needs.
It is best practice to group plants by water, sun and drainage requirements into hydrozones. This promotes the most efficient use of water and therefore, reduces water waste and keeps plant material healthy.
For plant material that needs the most amount of water, such as lawns, these hydrozones should be placed closest to the home. This not only reduced the number of piping needs and decreases the probability of breakage, but also ensures adequate pressure is available for the irrigation system.
A moderate distance from the home should be your medium to low water use plant material. These plants will be watered using drip irrigation and should have their own valve.
In a large landscape where irrigation is hard to reach areas far from the home or structure, a nativized area with very low water use plants should be installed. This area may need some hand watering to get plants established, but after they are established, they require little to no additional irrigation water. In this area, you will not need to install irrigation, like you would other areas. During hot, dry summers, it is recommended to hand water at least once a month to supply plants with enough water to survive.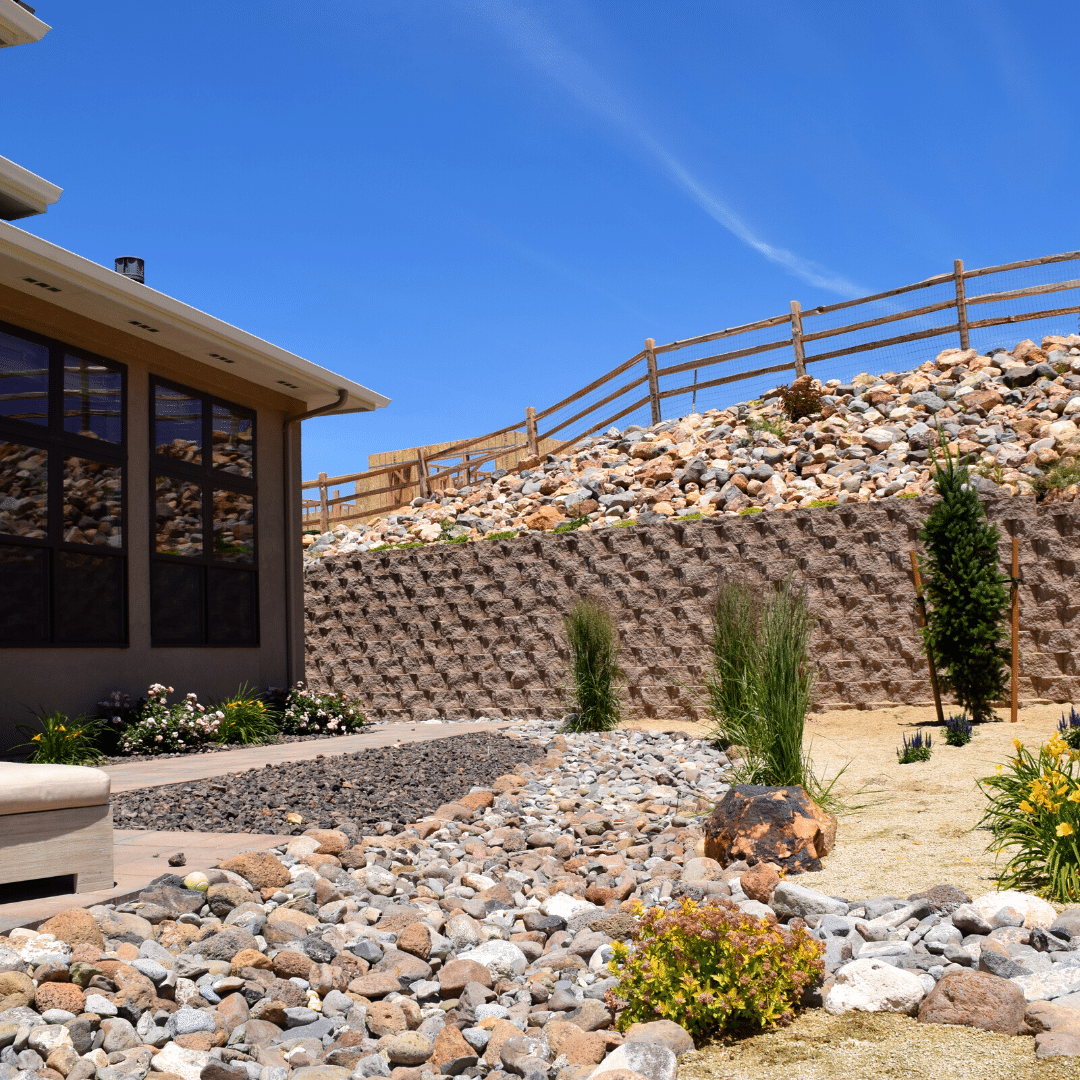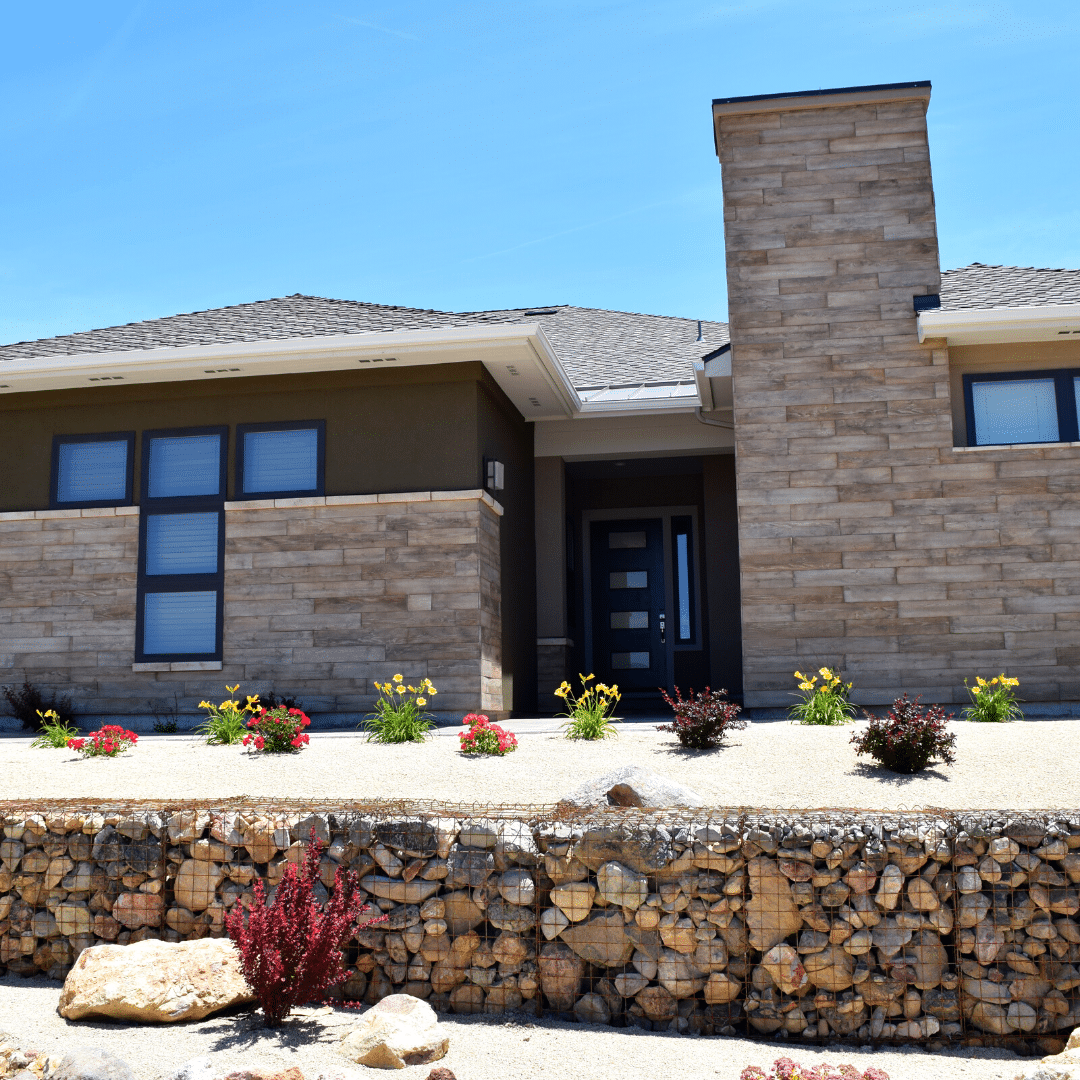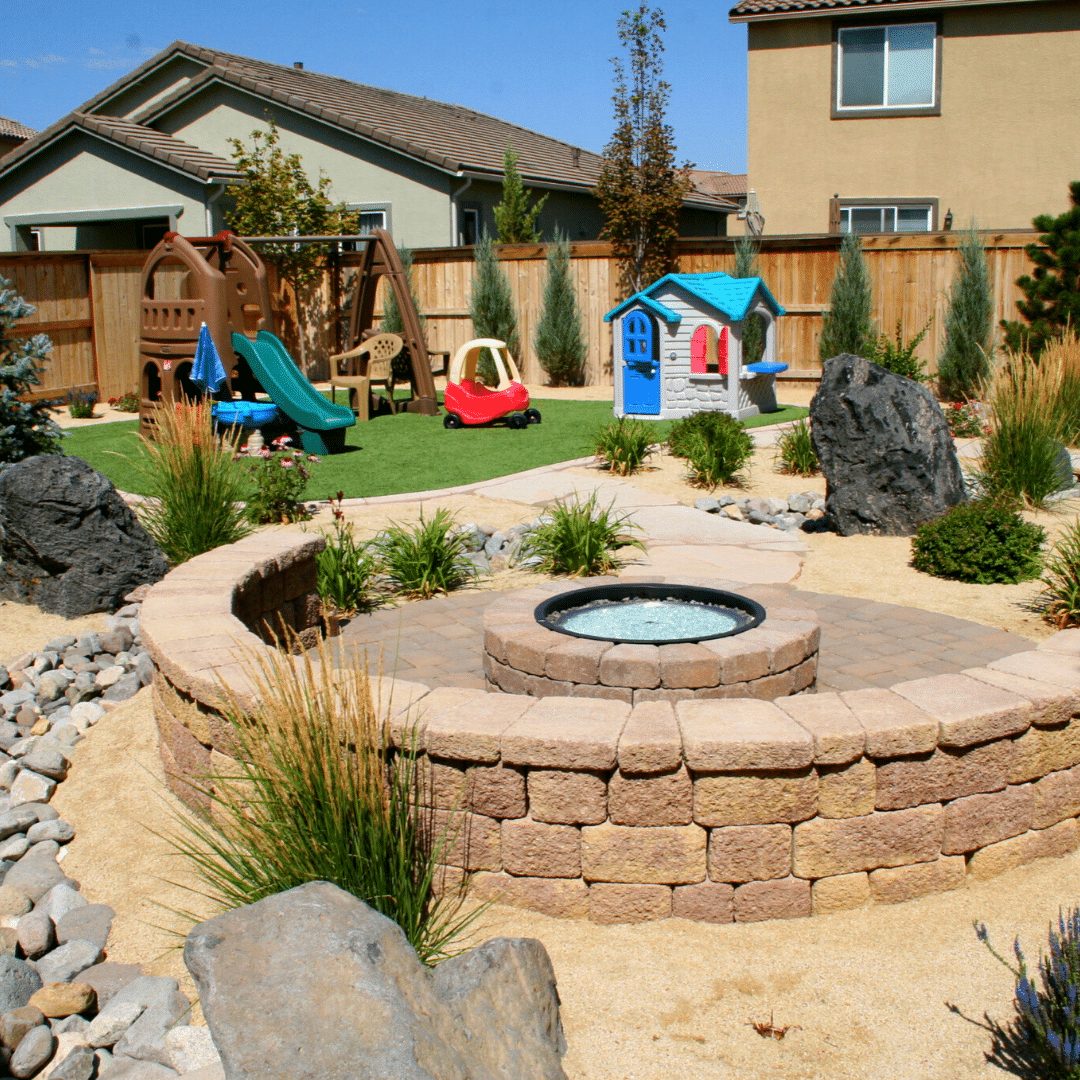 Best Plants for Xeriscapes
Now that you are familiar with hydrozones, you can begin selecting plants for your xeriscape. When selecting the best plants for a xeriscape, you should know the water requirements and sun requirements of each plant you select to determine what hydrozone you will place them in. Perennials, shrubs and trees tend to be the best choices for xeriscapes.
If you want a lawn area for your pets or children or just to cool your backyard area, think about installing only a functional sized area. Simply reducing the turfgrass area in a landscape can greatly reduce water use.
Native Plants to northern Nevada
Plants that are native to northern Nevada or similar high desert climates of Idaho, Utah and Colorado are usually the best choice for xeriscapes. Native plants are climate-adapted, meaning they are used to our very hot and dry summers and freezing winters.
Use caution when choosing native plants for your xeriscape, however. Just because it's native, doesn't mean it's low water use. For instance, Aspen trees are naturally found in the high mountains growing along rivers and streams. They require higher water than other native trees and can cause some headaches if they aren't adequately watered. They send out suckers from the roots when stressed. These suckers are clones of the original tree and can pop up all over your landscape due to the extensive root system of a tree. Due to this issue, it is not recommended to incorporate aspens into xeriscapes unless you are able to and have a plan for keeping up with their water needs.
To the right is a list of some native plants we recommend for a Nevada xeriscape.
Low water use
Plants for xeriscapes don't always have to be native to be low water use. You may select other climate-adapted plants that require lower amounts of water. For a great list, visit Truckee Meadow Water Authority's Plant Guide.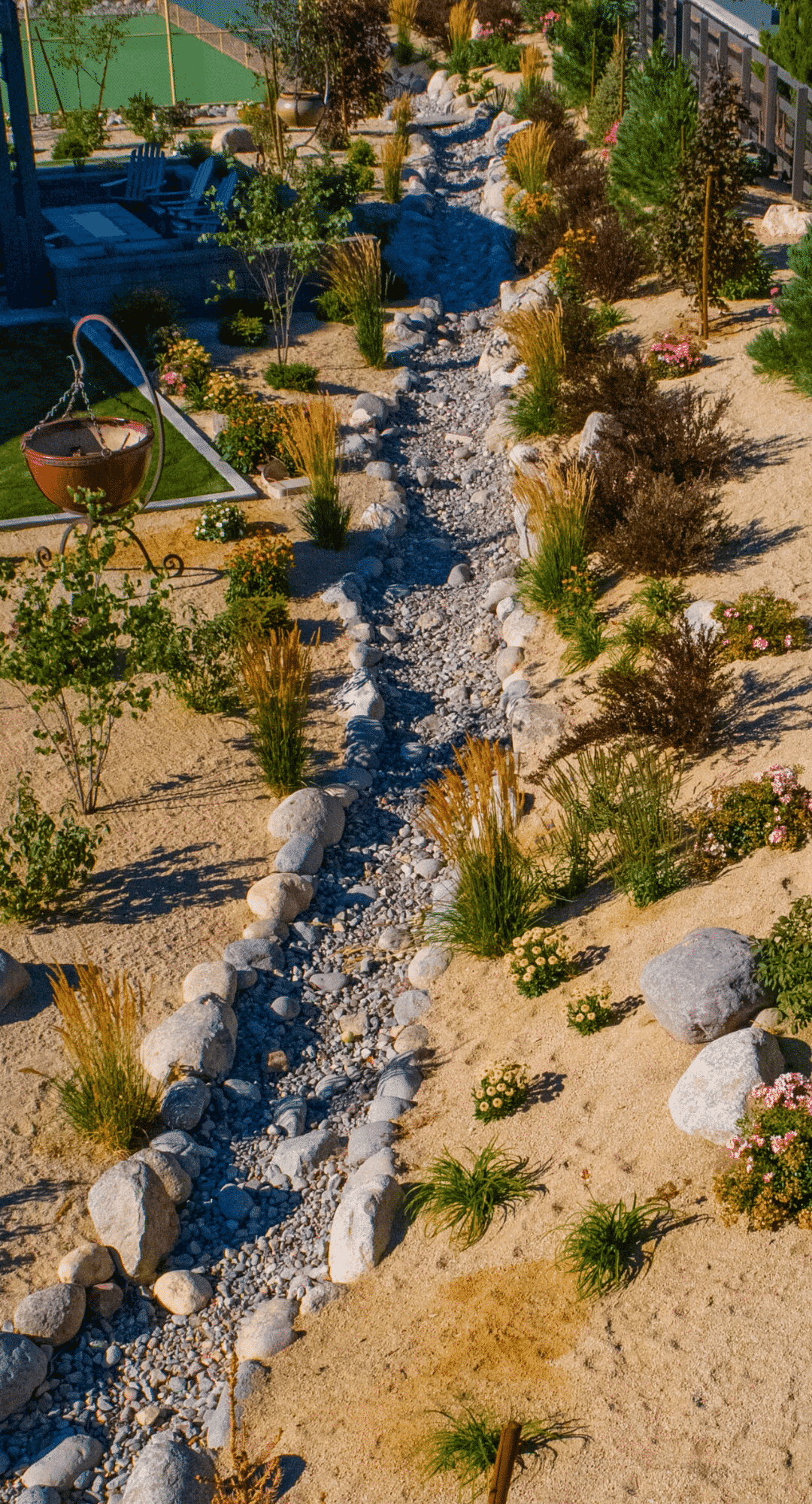 Best Materials for Xeriscapes
Mulches
Mulches are installed over the soil surface as a 2 to 4-inch layer, keeping space around the base of the plant. They can be both organic and inorganic. Organic mulches include wood chips, shredded bark, leaves and grass clippings. Due to the natural decomposition of organic materials, organic mulches should be reapplied every few years to keep them looking nice. The upside to organic mulches is that they slowly break down and add organic matter to the soil, which helps provide nutrients to plant material, improves soil structure and increases the soils ability to hold water and nutrients. Inorganic mulch is usually rock mulches in pebbles, river rock, gravel and decomposed granite (DG).
Mulches provide many important benefits to xeriscapes:
They reduce weed seed germination and growth.
They reduce moisture evaporation from the soil surface.
As stated above, organic mulches slow break down over time and add organic matter to the soil.
They reduce soil compaction. Organic mulches can reverse the effects of soil compaction as well.
They help moderate soil temperatures to promote healthy plant root growth.
They reduce soil erosion, especially on slopes and areas that are prone to flooding.
Soil Amendments
In Nevada, we have less than half of a percent of organic matter in our native soils. This is a problem because most plants need around 5% for healthy growth. If we want healthy plants, it is our job to improve our soils using soil amendments, like compost or composted aged manure. It is recommended to incorporate soil amendments as deep as 6 to 8 inches. These amendments help improve soil structure, fertility, and water and nutrient holding capacity.
Though the inclusion of soil amendments is not instantaneous, it will provide benefits to soils over time resulting in healthy, living soils and plants.
Aside from inorganic mulches, hardscaping is comprised of inorganic materials such as pavers, boulders, flagstone and artificial turf. You will commonly see dry creek beds, flagstone pathways and rock mulched designs in xeriscapes.
Xeriscapes often have outdoor living spaces for entertaining or relaxing using pavers for seat walls, patios, outdoor kitchens or fire pits. Flagstone or paver pathways are commonly added to xeriscapes for natural and sustainable walkways.
Rock and Boulders
Rock mulches, dry creek beds and boulders are common in Nevada landscapes. Rock mulches are used as ground cover to cover large areas of landscaping. Different types and colors of rock mulch can be used to create interesting designs, line planters or direct water on the landscape.
Dry creek beds can be formed using varying sized rocks and boulders. Dry creek beds are often used in xeriscapes as they can be used functionally to direct water on the landscape.
Request a complimentary consultation today, and we will bring your xeriscape vision to life!
A xeriscape is not merely a landscape style, but a whole system's approach to landscaping that incorporates sustainable landscape principles to reduce water use and promote a healthy ecosystem. Reno Green Landscaping has experts in northern Nevada xeriscapes with our award-winning designers and experienced installers. We stand behind our xeriscaping projects as we know they will withstand the test of time and provide you and your family a beautiful place to gather for years to come.
DESIGN & INSTALLATION SERVICES
Low-voltage lighting systems
Holiday lighting
LANDSCAPE MAINTENANCE SERVICES
Weed, debris and leaf abatement
Clean ups
Tree and shrub pruning
Insect and disease management
Water feature maintenance
Planter bed care
Annual color rotations
Winter watering
Activity reports
Irrigation sprinker system repairs and maintenance
System winterization and activation
Water schedule management
Smart controller installation
Irrigation design and installation
Irrigation system retrofits
Water feature maintenance and troubleshooting
Snow and ice control for sidewalks and walkways
Mechanized snow removal for streets and parking lots
Salting/Sanding
Property maps indicating scope of work, snow pile locations and areas of special concern
*Snow and ice control services are available to our current maintenance clients and is offered as a separate contract.