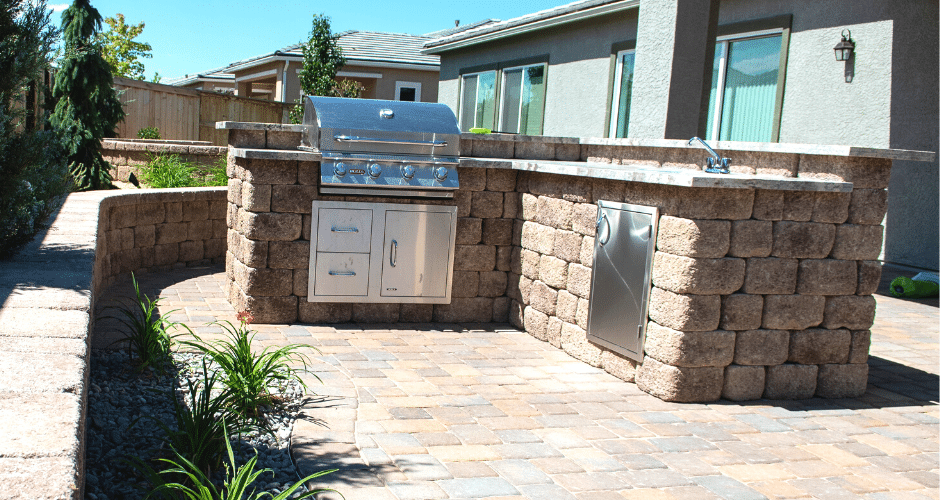 Create the outdoor kitchen of your dreams!
The kitchen was made to bring families together to make meals and memories. Why not bring the heart of your home outdoors with your own luxury outdoor kitchen? Modern outdoor kitchens bring the luxury of indoor living to the outdoor space creating the perfect dining experience for you and your loved ones.
Reno Green Landscaping is on the cutting edge of luxury outdoor living with our award-winning landscape designers and highly skilled craftsman.
Contact us today for a complimentary consultation!
Our landscape designers will help you create the outdoor living space that you've always wanted. With a luxury outdoor kitchen and dining area perfect for entertaining.
No matter what style of outdoor kitchen you prefer, Reno Green Landscaping will bring your vision to life. We design and install built-in grills, countertops, wet bars, outdoor refrigerators and wine coolers, outdoor pizza ovens and more.
We also know an alfresco kitchen is not complete without a dining table covered by an awning, pergola or gazebo for hosting family dinners or large events. Your outdoor living space might also include an outdoor fireplace or fire pit for evening lounging or roasting marshmallows with the kids. Finish off your outdoor living space with comfortable outdoor patio furniture and string lights for the perfect alfresco design.
Reno Green Landscaping offers versatility, sustainability and creativity, so you can enjoy your outdoor space for years to come.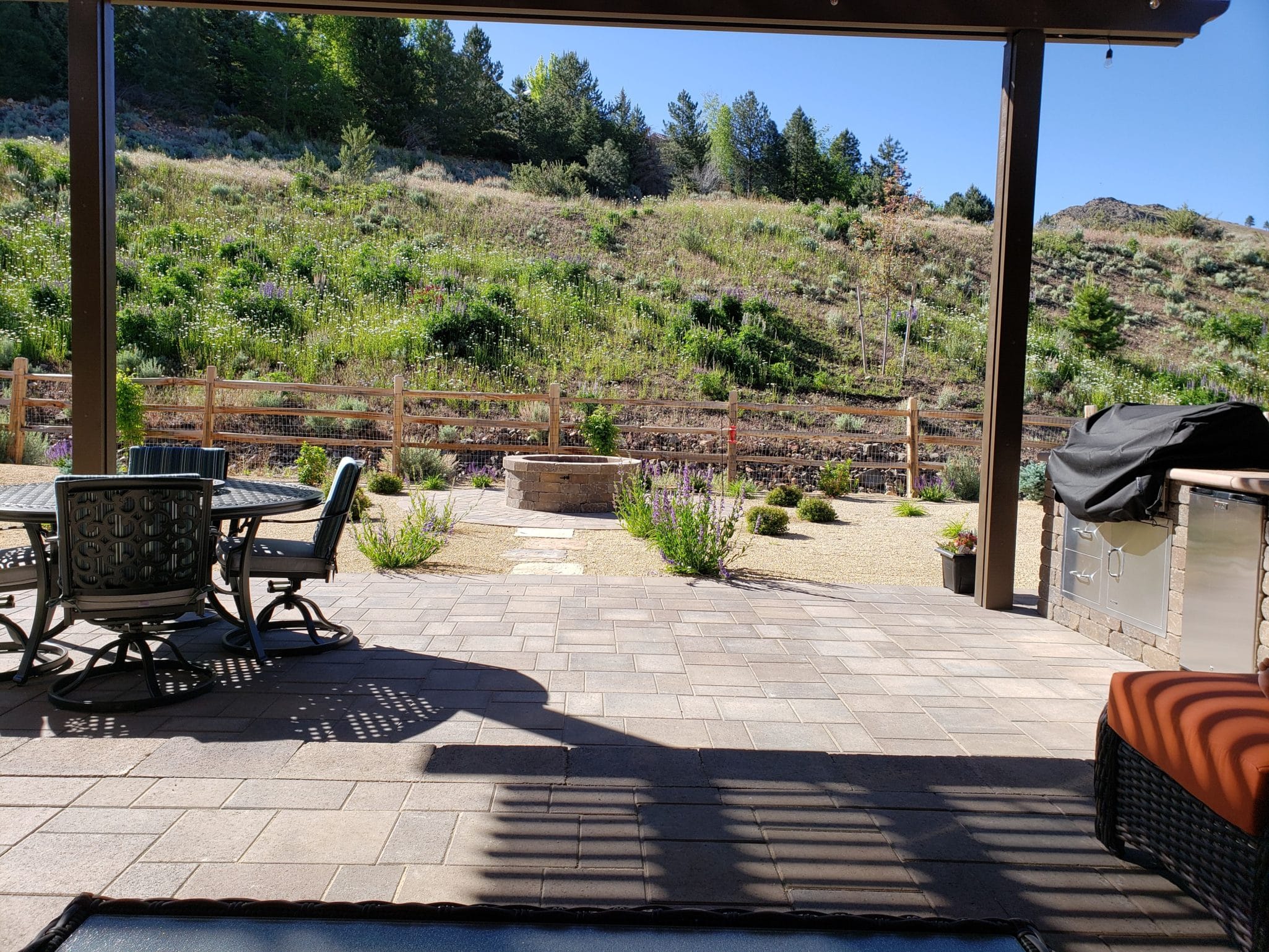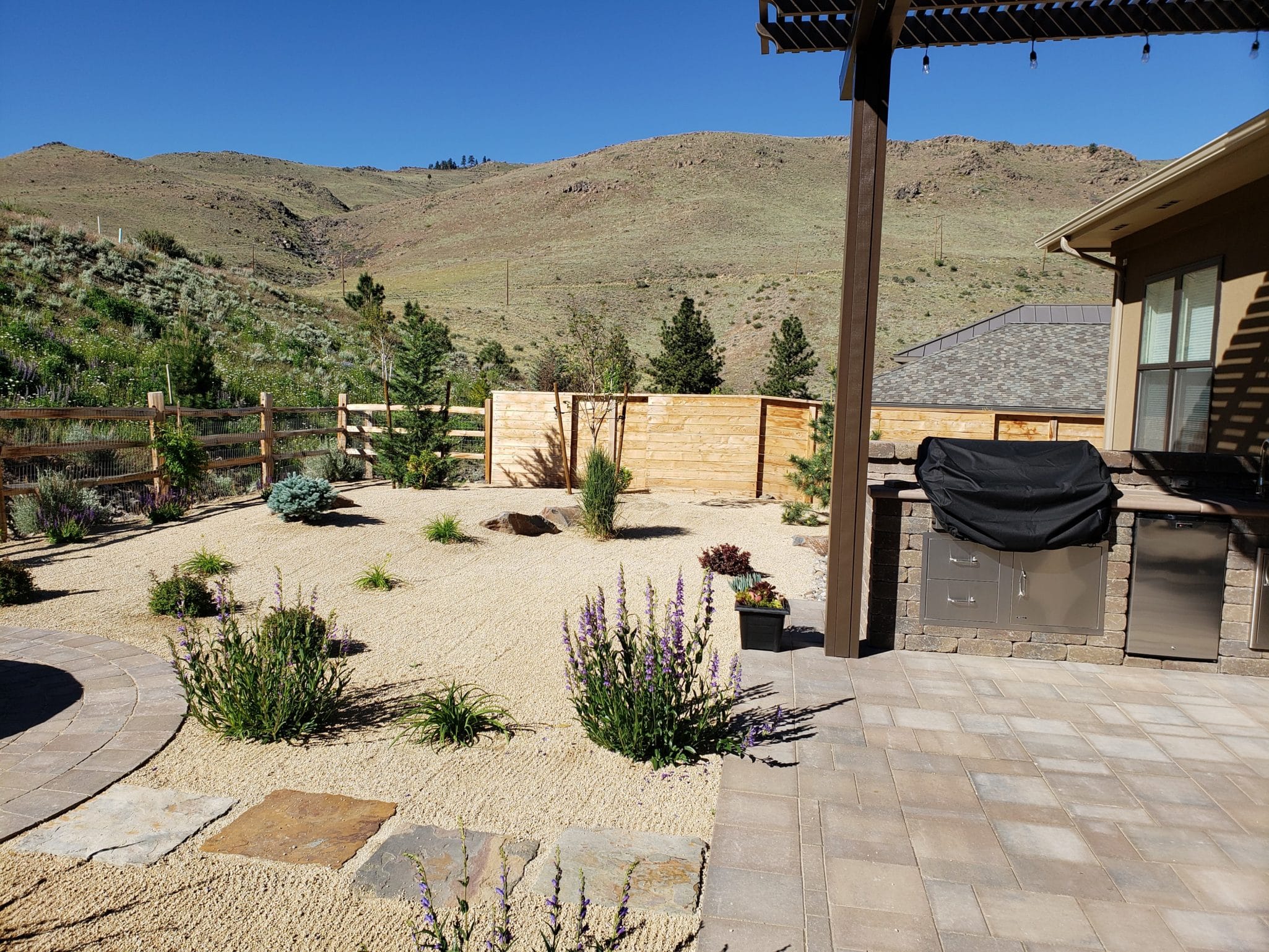 "Just a few pics of our backyard, which we enjoy with our morning coffee. You and your team did a great job, thank you." - M. Karpinski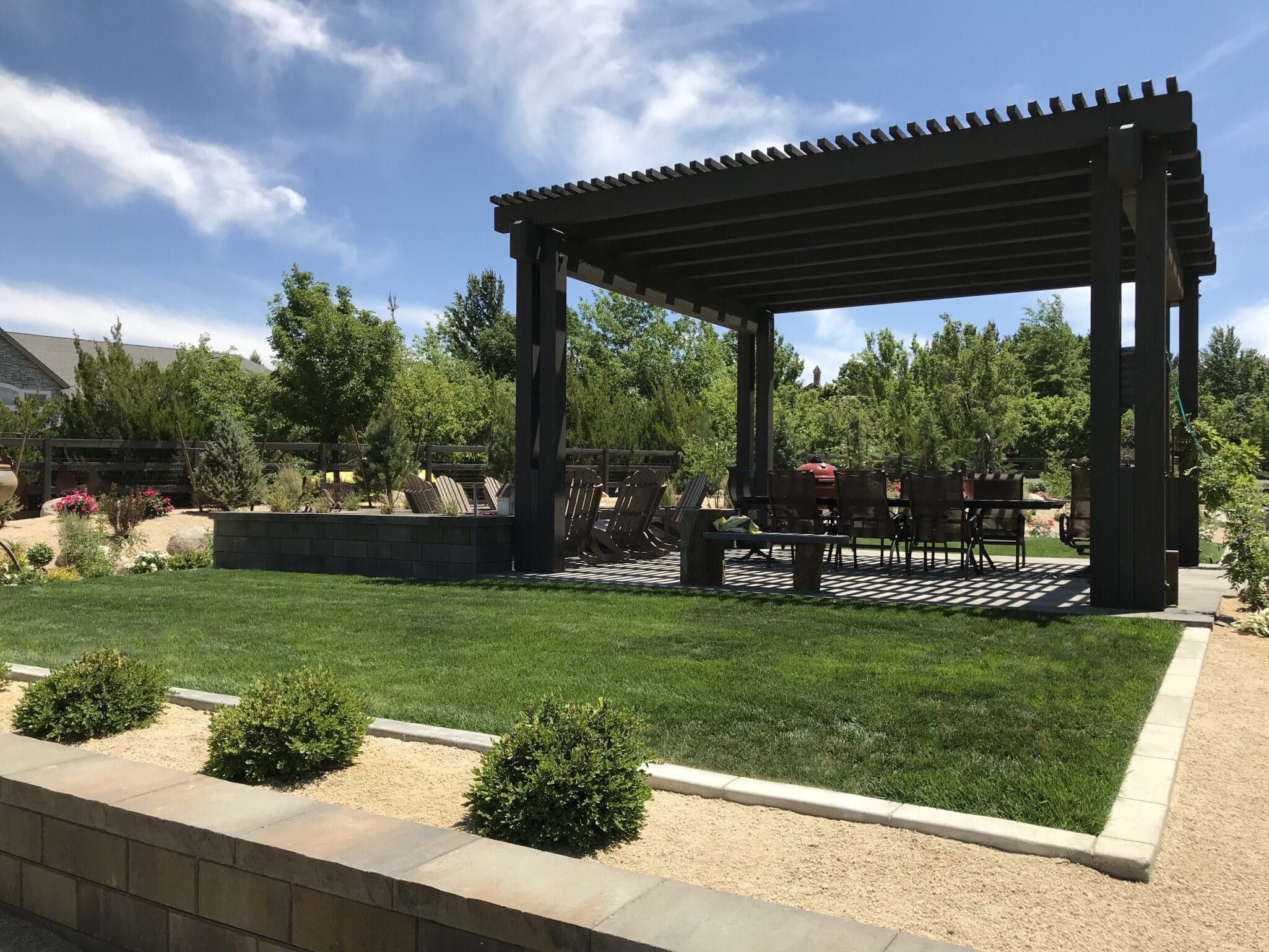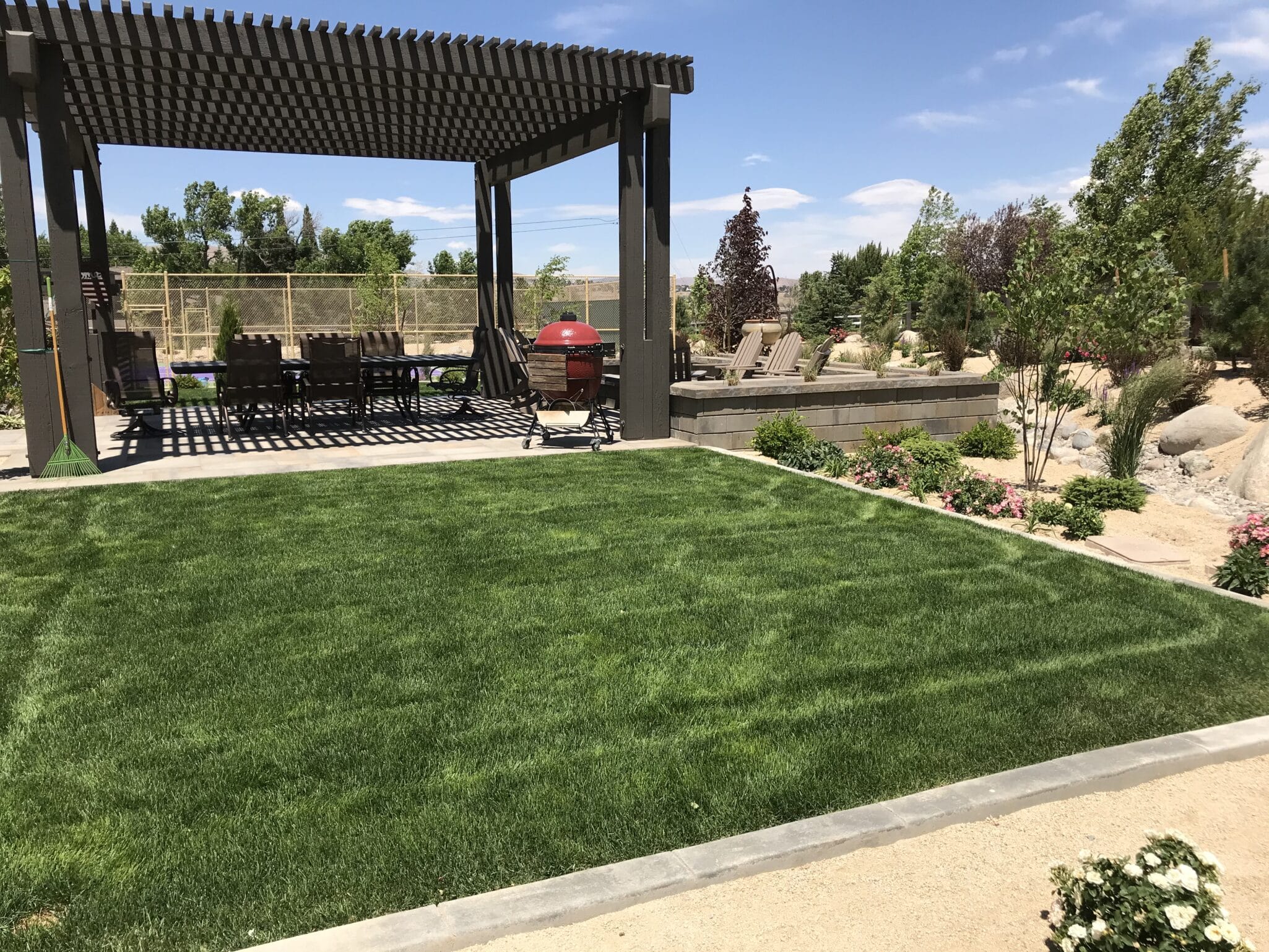 "Reno Green Landscaping— the absolute best outdoor experience. Once again, they have created a masterpiece for us that people literally fall in love with. Thank you for creating our sanctuary in our own backyard. We love outside more than inside!!" - T. Gurnea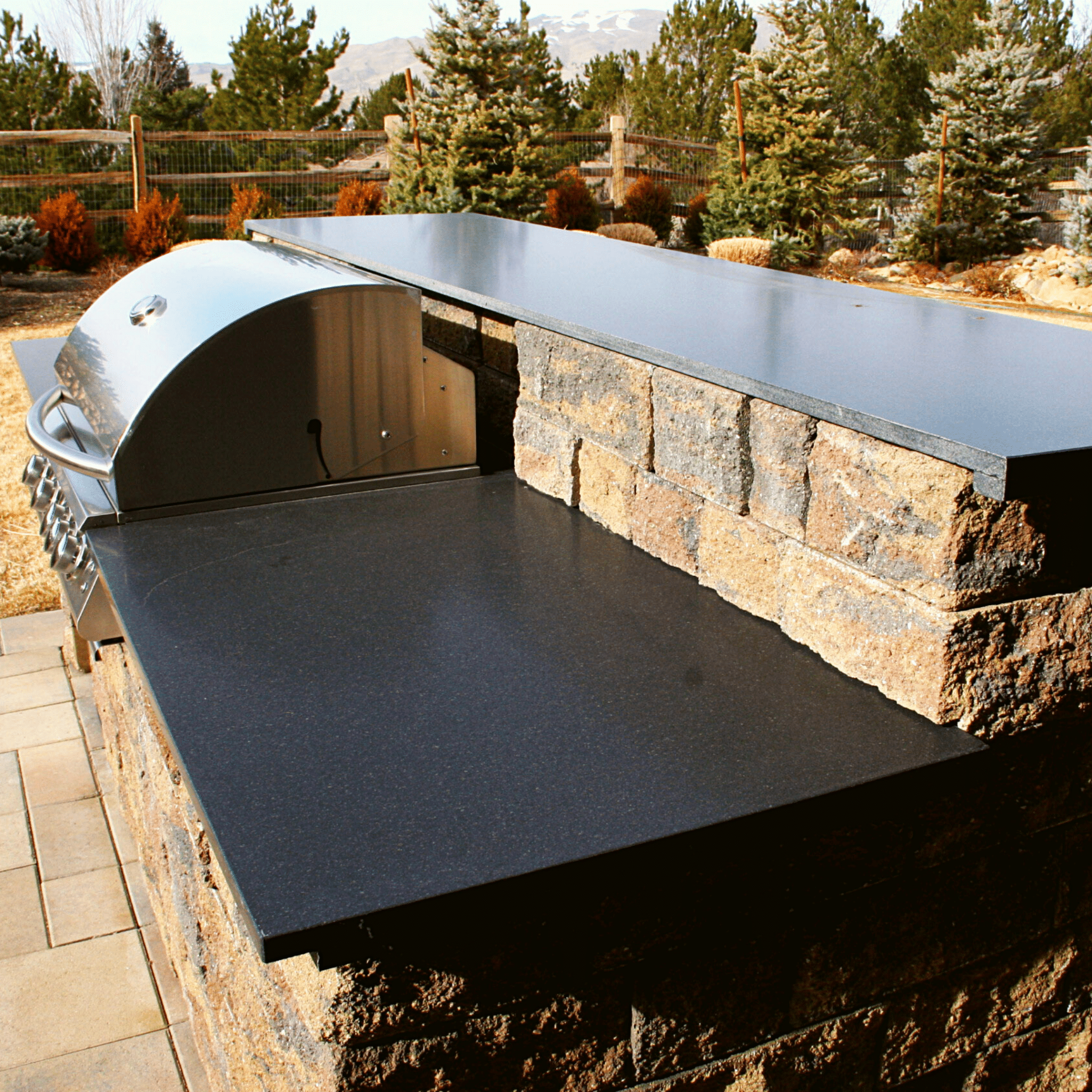 Designing Your Luxury Outdoor Kitchen
We begin the design process by walking your property with you and getting all your ideas, including preferences on plant material, landscape style, your interests, and more. Our landscape designers create a luxury outdoor living design based on your specific needs and desires. We include plant lists, color schemes, style, and options for materials.
Depending on your landscape size and preference, our detail-oriented designers can create your outdoor space to include a fully equipped outdoor kitchen area, complete with countertops for cooking space, bar with bar stools, and high-end BBQ grill so you can grill in luxury. You may want an outdoor kitchen island with stainless steel faucet and cabinetry and decorative backsplash to achieve a flawless outdoor living design.
Our landscape designers seamlessly incorporate softscape with hardscape for aesthetic appeal and functionality.
Once you are completely happy with your landscape design, we enlist the most skilled installation professionals to bring what's on paper to life.
Installing Your Outdoor Kitchen
Whether you want natural stone, pavers, or modern concrete, we will install your outdoor kitchen with unparalleled attention to detail and the highest quality products.
Our skilled installation professionals are Belgard Master Craftsman certified, the highest level Belgard certification, and possess both Interlocking Concrete Paver Institute (ICPI) and National Concrete Masonry Association SRW Installer certifications. We select only the best installation professionals, so your outdoor kitchen is installed perfectly from day one.
Outdoor Kitchens Made with Quality Materials
With 45 years of experience, we know exactly which materials will withstand the test of time and provide you with the luxury landscape you desire. Our experienced landscape designers will choose the best quality materials for your outdoor kitchen and living space.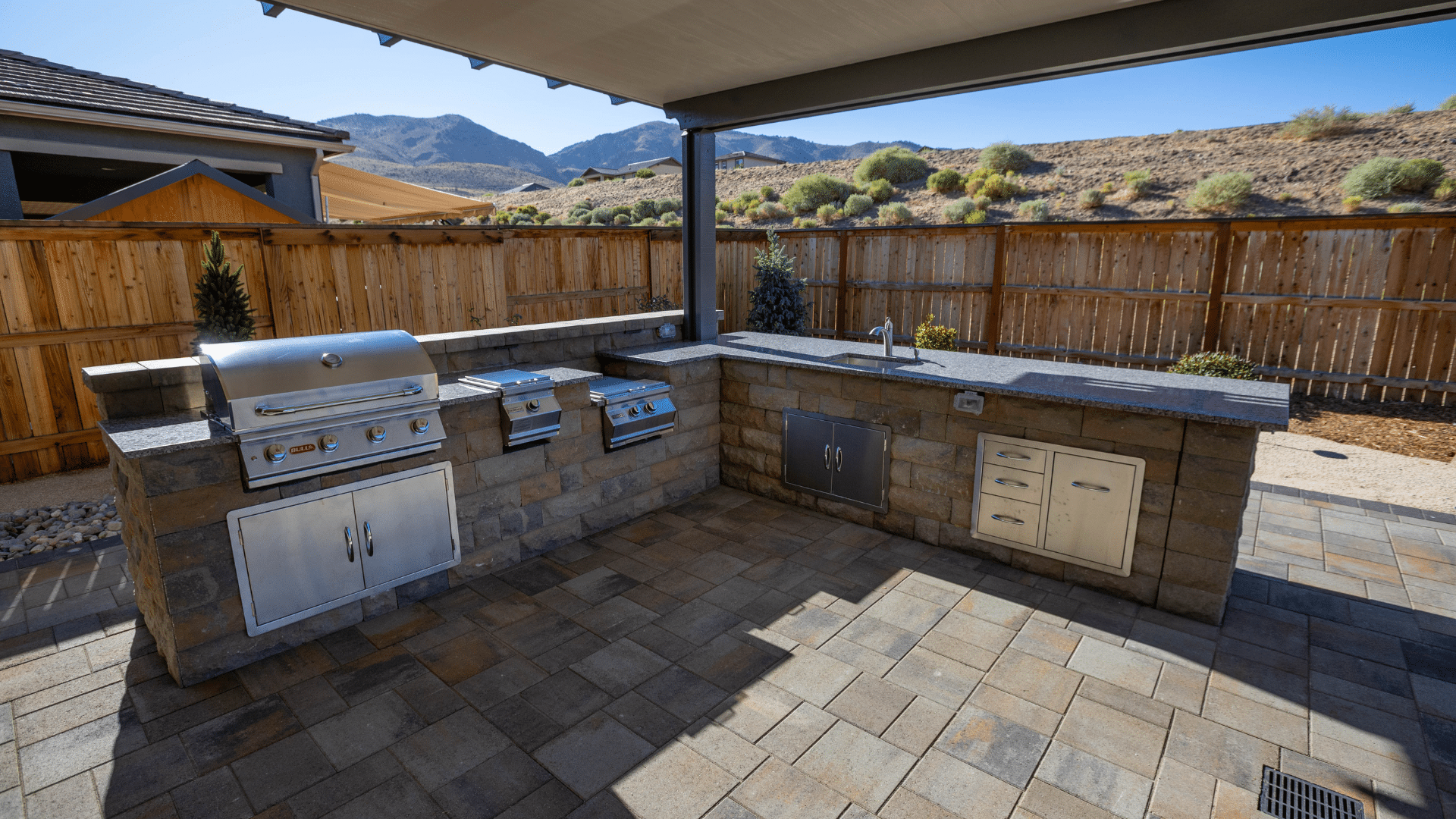 Dream Big with Creative Design Elements
You may want to incorporate some of these elements into your next landscape design:
Outdoor Lighting
Privacy Screens
Vineyards and Fruit Tree Orchards
Trees and Shrubs
Flowering Plants to Attract Pollinators
Water-Efficient Sprinkler Systems
Raised Beds for Vegetable Gardens
Low Voltage Lighting Systems
Thinking about making your outdoor dream a reality?
At Reno Green Landscaping, we know your landscape is a special place for entertaining, spending time with loved ones and relaxing after a hard day's work, so let us create your dream outdoor oasis for you. Contact us today for a complimentary design consultation.