Turn Up the Heat with an Outdoor Fire Pit
A custom backyard design is not complete without a custom backyard fire pit. Designed for gathering and socializing with friends and family, a fire feature may be just what your landscape needs to become the outdoor space you always dreamed of having.
Fire features are great for roasting marshmallows, relaxing on summer nights, and for warmth in the cool winter months. Reno Green Landscaping's award-winning designers can help you choose the perfect style and material for your fire feature.
We compiled some considerations and fire pit ideas to help inspire you.
Contact us for your complimentary consultation today!
What function will your fire pit provide in your landscape?
A Focal Point
A fire feature is a stylish focal point for a custom backyard landscape. By adding comfortable seating, framed by plants, your eye will be drawn directly to the warm, inviting flames of your fire pit. Accent pillows and cushions create the resort-style look. With a fire pit as your focal point, your backyard will ooze luxury and relaxation.
Entertaining
If you are looking for a place to entertain friends and family, a fire pit is a perfect feature for you. With permanent seating, a fire pit is an engaging gathering place in your landscape that partners well with an outdoor kitchen, dining area, or play area for kids and pets.
Roasting Marshmallows
Who doesn't love a S'more?  Fire pits are perfect for toasting a picture-perfect golden marshmallow. While a toasted marshmallow is delicious on its own, eating S'mores around a fire is a great tradition.  Here are some ideas to put a twist on your next S'more!
Warmth and Ambiance
During cool summer nights or winter days in our high-desert region, a warm and inviting fire feature can be a much-needed place to wind-down and relax. Whether you want to hear the crackling of a wood-burning fireplace or enjoy the easy startup of a gas fire feature, it will give you the ambiance of a resort right in your backyard.
Do you want permanent seating around your fire feature?
If your fire feature is for entertaining, you may want to incorporate a seat wall or other permanent seating around your fire pit. This can be done with paver blocks, concrete or rock that blends with your patio and overall design style.
With permanent seating, there's no need to drag outdoor furniture around, especially if you plan to use your fire feature during the winter months. You can add comfortable cushions and pillows to make this area warm and inviting for guests.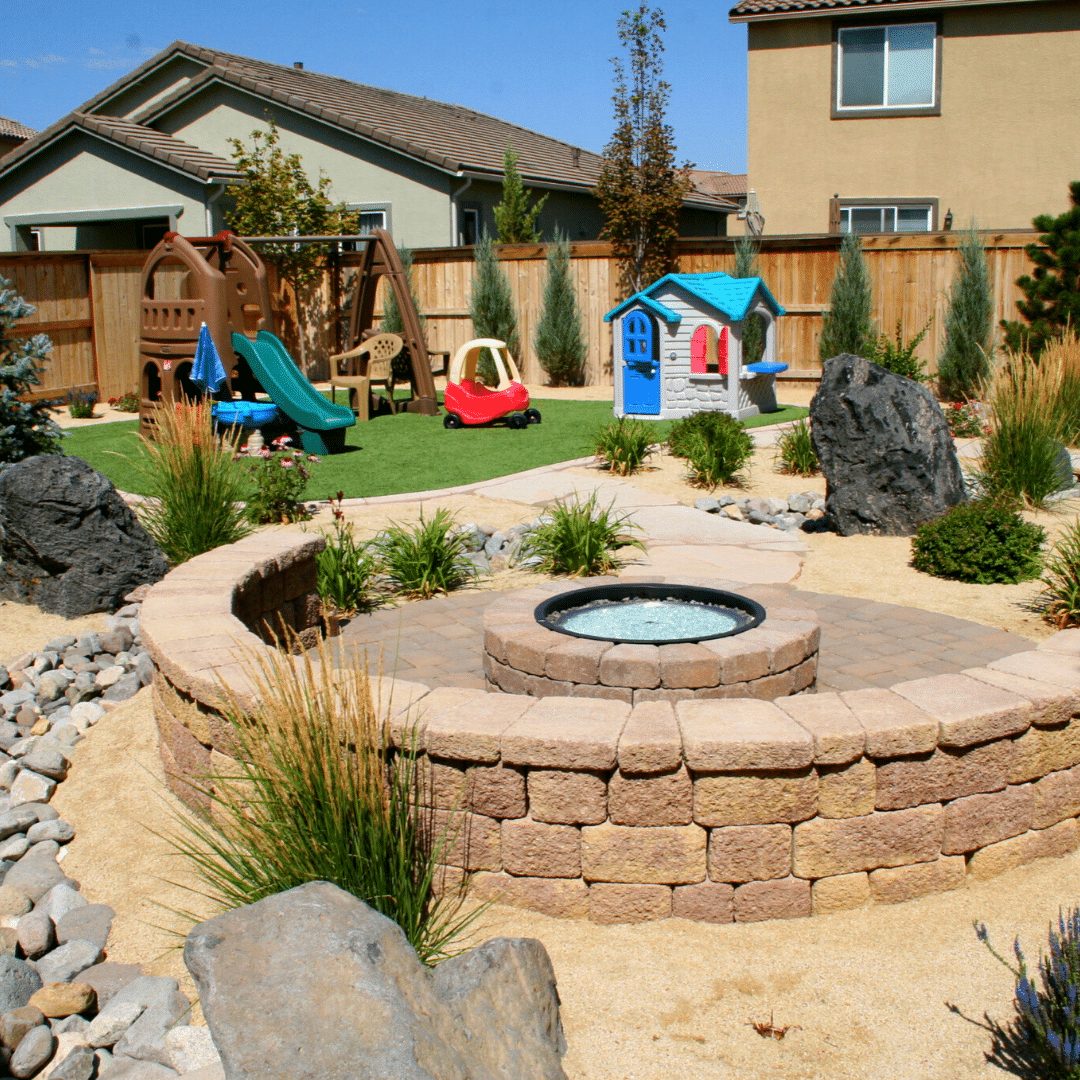 Would you prefer wood or gas?
Though wood-burning fire pits are usually less expensive than gas fire pits, they both have their advantages and disadvantages.
Wood-Burning
Wood-burning fire pits are often faster to install, have a more rustic look, and offer natural crackling fire sounds to create an outdoor ambiance. Some downsides to wood fire pits include fire hazard concerns, wood storage requirements, lighting and cleaning challenges, and regular maintenance.  Please note: check your local city and county guidelines for wood burning fire pits.
Natural Gas or Propane
Gas or propane fire pits are easier to light, more environmentally friendly, can run continuously and have fewer fire hazard issues compared to wood-burning. For outdoor gas fire pits, you will need to have a gas line installed by a plumber.
What type of fire feature is best for you?
Fire Pit
Fire pits are often built into the ground using pavers or stones. They are typically raised and are a permanent landscape feature.  Work with a landscape designer to determine the best location in your landscape.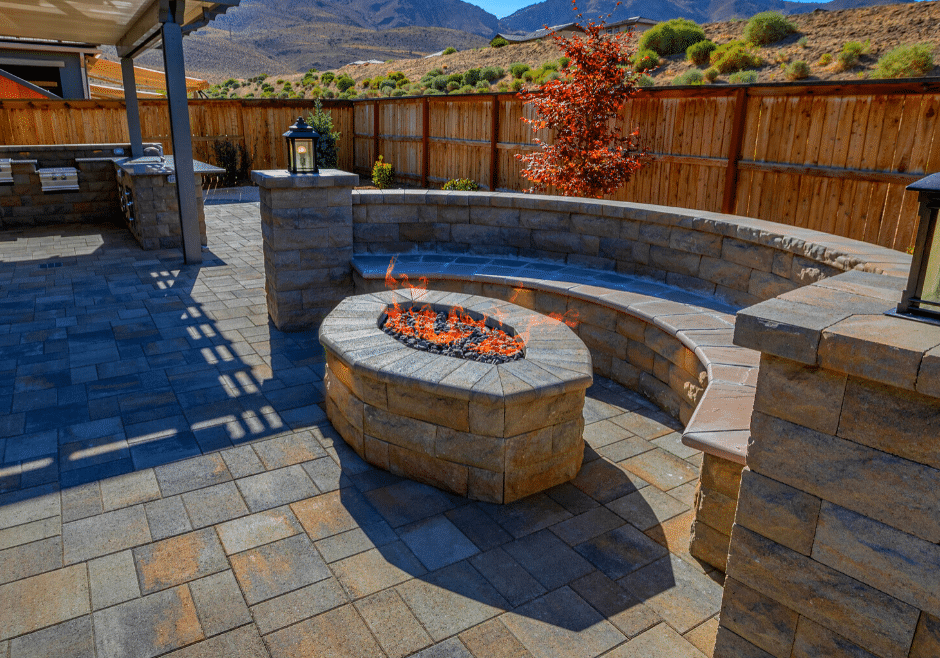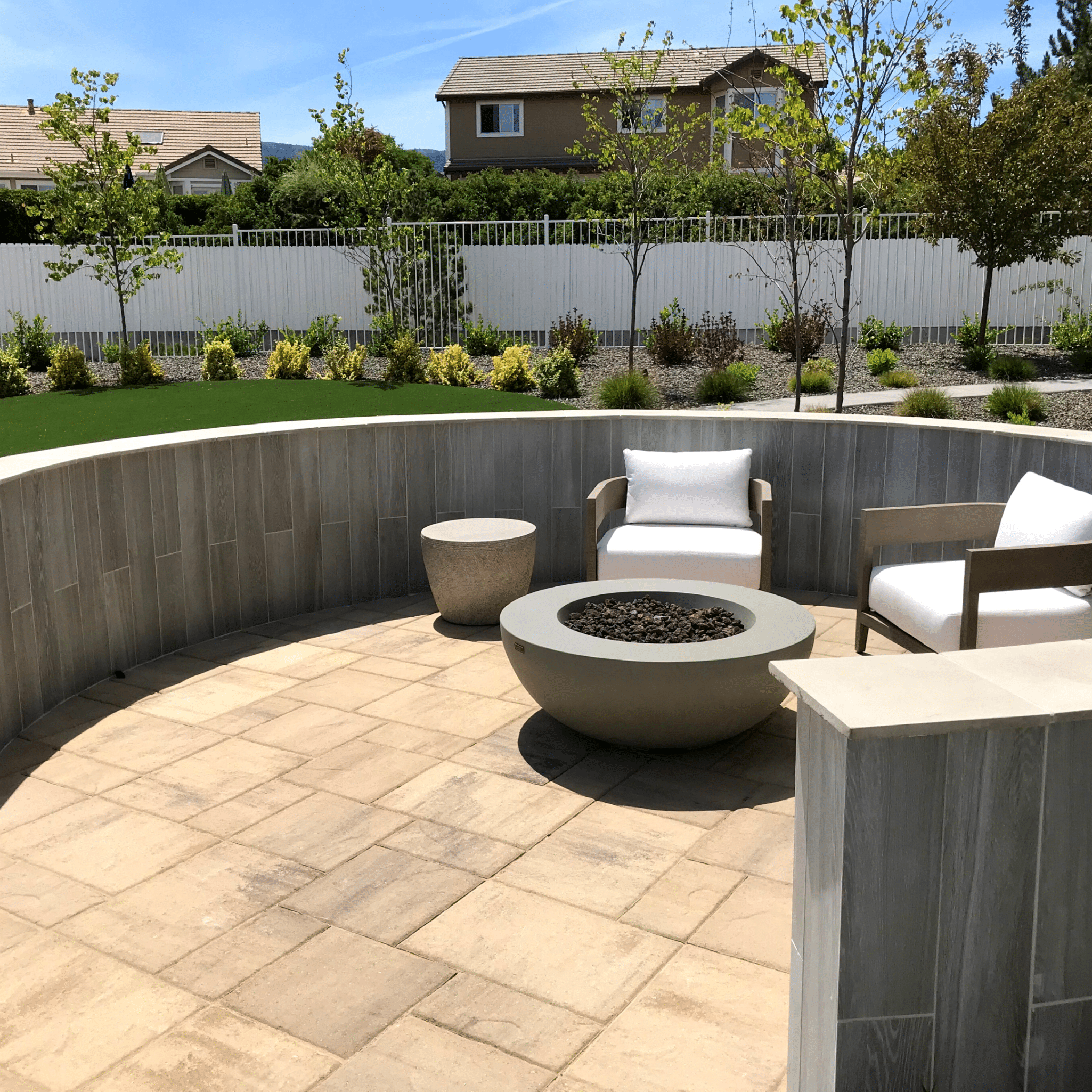 Fire Bowls
Fire bowls are usually a semi-permanent landscape piece that can be moved from location to location. They come in a variety of sizes, from very large to tabletop size. Fire bowls are most often concrete, ceramic, or metal and mix well in modern or traditional landscapes. Some metals can also give a rustic vibe.
Fire bowls can be filled with rocks or colored stones to add to the appeal and match the style of your home.
Outdoor Fireplaces
Outdoor fireplaces are much like indoor fireplaces in design and function. They are often wood-burning but can also be installed with natural gas.
Outdoor fireplaces create a warm and inviting ambiance to a landscape gathering area. They are great for enhancing a patio seating or dining area for entertaining. We have also seen outdoor fireplaces used to create the feeling of outdoor rooms. They are great for creating a sense of space and bringing the indoors to the outside.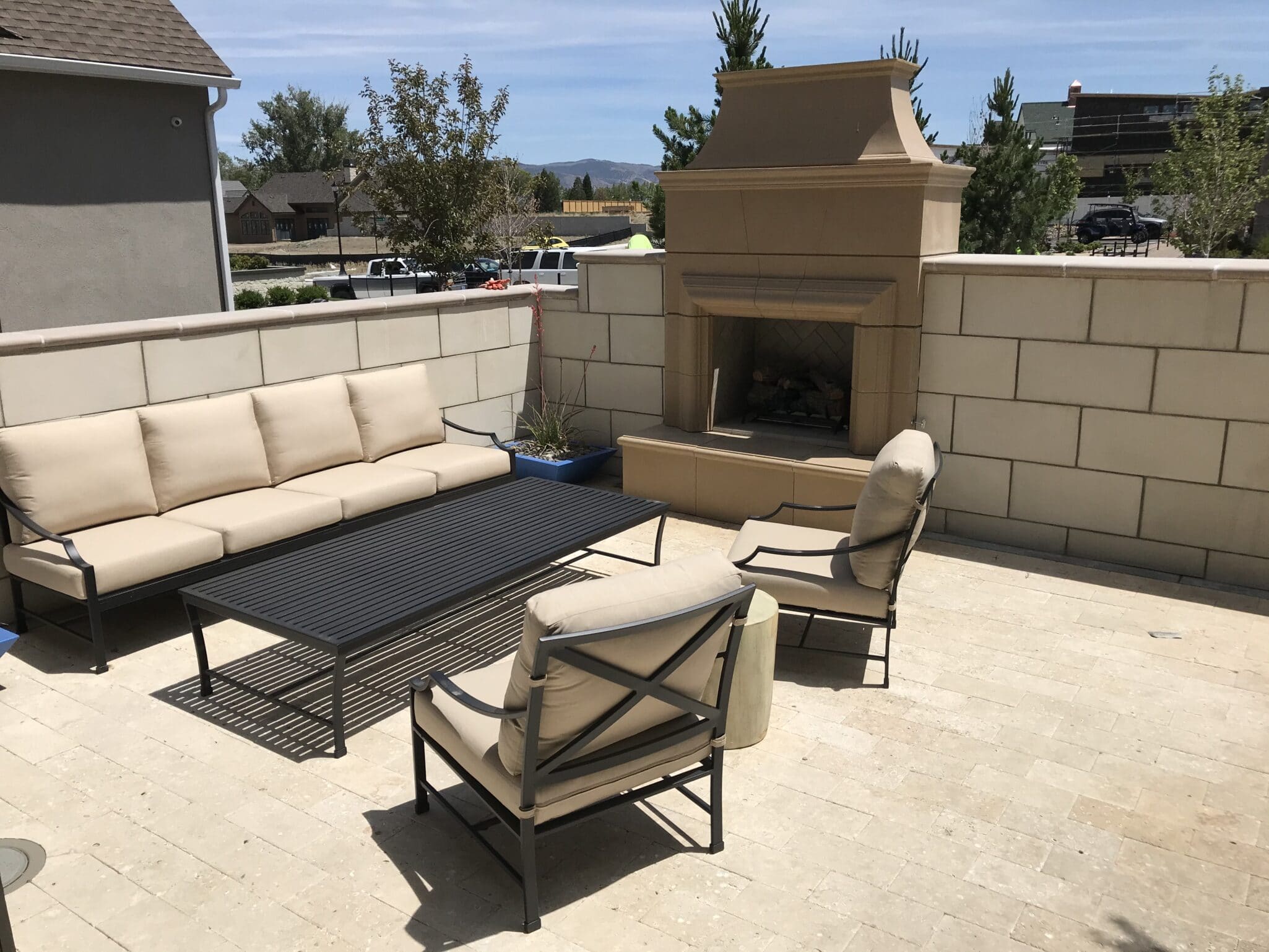 Water and Fire Features
Becoming more common, fire features that are part of a water feature offer luxurious appeal. Some features have water flowing over the edges with flames in the middle. Others include waterfall features with fire at the bottom. They are extremely beautiful and unique when added to an outdoor living space.
What style do you want?
Reno Green's landscape designers can help you select the best style to blend with your landscape and provide the most functionality possible. Here are some styles to consider.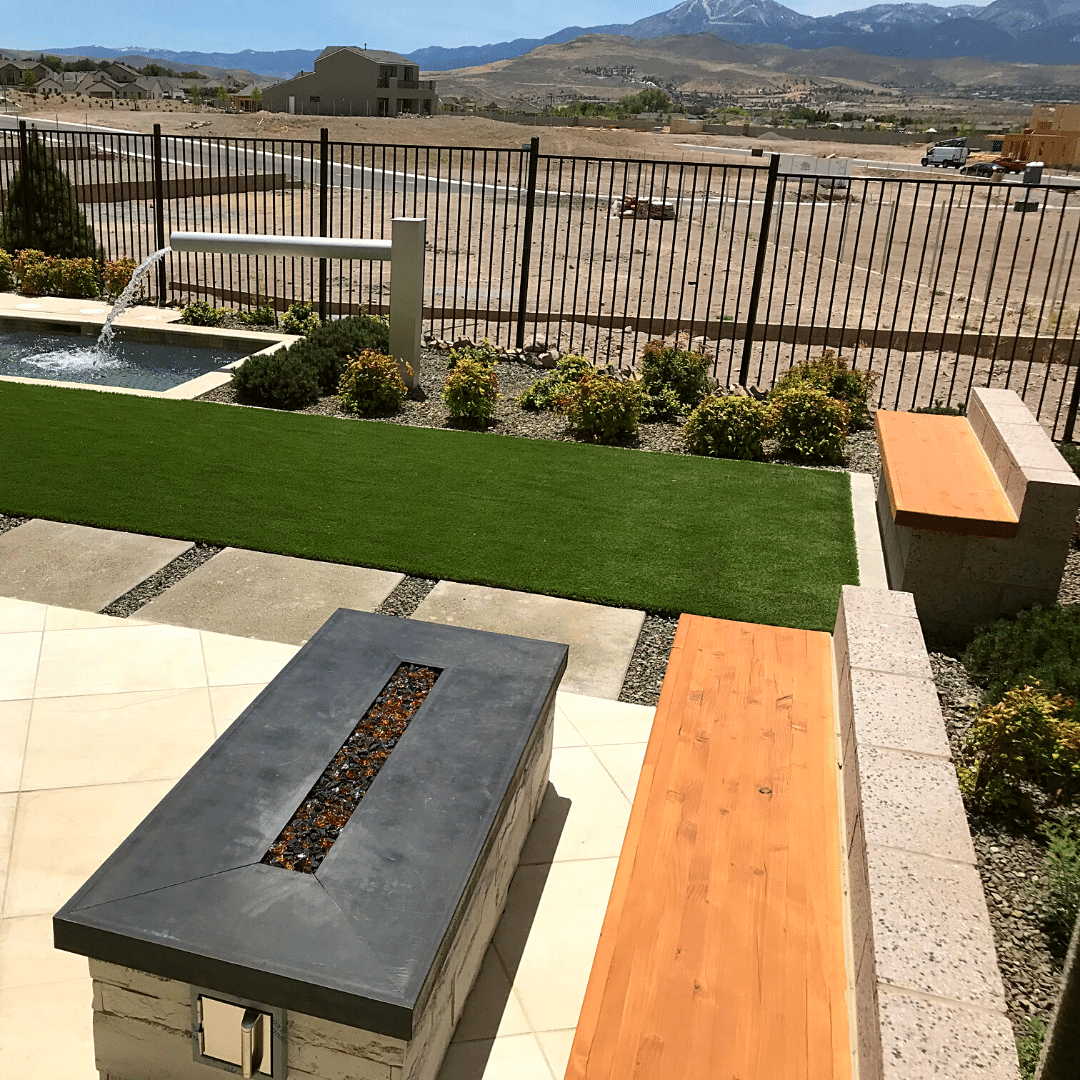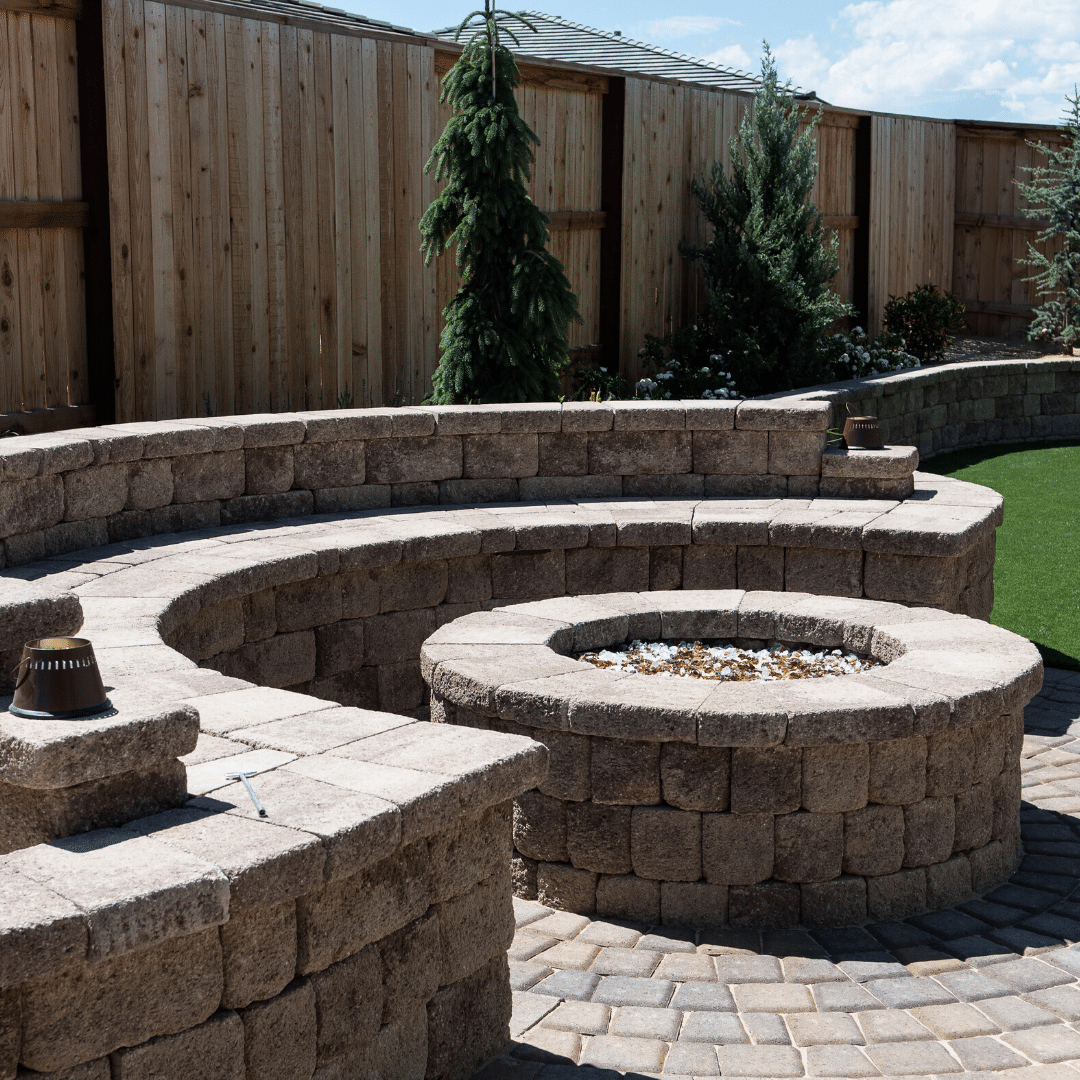 Modern
Modern fire features are characterized by clean, straight lines and concrete, wood, or metal construction materials. They match well with modern home designs that incorporate outdoor living elements such as pergolas, grid concrete walkways, wood-slatted walls, pools, and repeating plant material.
Concrete or metal fire bowls and square fire pits are great in modern landscape design. A fireplace built into a concrete wall or column also works well in a modern design.
Rustic
A rustic fire feature is usually made of rock, stone, pavers, or rustic metal and blends well with the natural landscape. Rustic fire features may be built into a rock, paver, or flagstone patio to give an outdoorsy feel to your backyard without having to leave your property. Wood Adirondack chairs or block seat walls are perfect for gathering with friends and family.
Rock fireplaces also work well in a rustic design. You may even want to include a pizza oven in your fireplace area.
Now that you have a vision the best fire pit for you and your family, allow the landscape designers at Reno Green Landscaping to incorporate it into your dream landscape. Your new fire feature will be designed with the perfect blend of functionality and style.
DESIGN & INSTALLATION SERVICES
Low-voltage lighting systems
LANDSCAPE MAINTENANCE SERVICES
Weed, debris and leaf abatement
Clean ups
Tree and shrub pruning
Insect and disease management
Water feature maintenance
Planter bed care
Annual color rotations
Winter watering
Activity reports
Irrigation sprinker system repairs and maintenance
System winterization and activation
Water schedule management
Smart controller installation
Irrigation design and installation
Irrigation system retrofits
Water feature maintenance and troubleshooting
Snow and ice control for sidewalks and walkways
Mechanized snow removal for streets and parking lots
Salting/Sanding
Property maps indicating scope of work, snow pile locations and areas of special concern
*Snow and ice control services are available to our current maintenance clients and is offered as a separate contract.