COMMERCIAL DESIGN AND INSTALLATION
In the highly competitive world of commercial real estate and retail business, first impressions matter. Curb appeal attracts prospective tenants, renters, homeowners, visitors, and customers and a well-designed and expertly installed landscape can create that memorable first impression you are seeking.
Reno Green Landscaping provides practical and aesthetic design and installation services. Our goal is to provide the best in services with an emphasis on quality workmanship, professionalism, and attention to detail.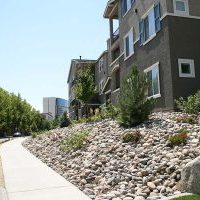 NEW CONSTRUCTION AND INSTALLATION
Reno Green Landscaping has the experience and skill set to install any size commercial landscape project. We have installed quality landscapes for: apartment complexes, industrial buildings, homeowner's associations, city streetscapes, shopping centers, hotels, schools and office buildings.
Reno Green Landscaping also offers Design/Build services. We work with local landscape architects to ensure your project meets all local codes, requirements, etc.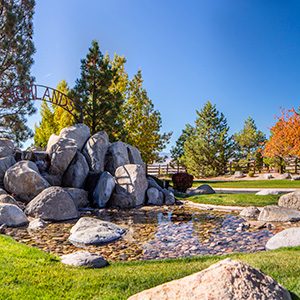 EXISTING LANDSCAPE RENOVATIONS
Our design team begins each and every landscaping design with an extensive understanding of our client's preferences and requirements. By combining our architectural and design expertise with your landscaping vision, we will create an attractive and functional landscape that meets and exceeds your vision and goals.
Our knowledgeable and highly skilled installation crews are committed to using only superior products, providing the highest level of workmanship and ensuring that your landscaping is set to withstand the ever-changing climate conditions for years to come.
Irrigation: All materials are commercial grade and installed to manufacturer's specifications.
Planting: All nursery stock is sourced in Oregon and California and is of the highest quality.
Turf: We use a blend of climate-appropriate grasses. We rototill, remove rocks, and incorporate premium top soil with amendments to give your sod the proper nutrients and environment for its best health and growth.
Hardscapes: Pavers, retaining walls (rock and block) and flagstone are installed by ICPI certified crew members. Reno Green Landscaping is a licensed paver installer.
Whether you are looking for a new landscape installation or a renovation to an existing landscape, we will help you achieve an aesthetic that is both well-designed and sophisticated. At Reno Green Landscaping, we guarantee the highest standard of quality by employing award-winning designers, degreed horticulturists and experienced crews.
DESIGN AND
INSTALLATION SERVICES
CAD drawings
Plant selection and installation
Color beds
Pavers, flagstone
Concrete
Low-voltage lighting systems
Retaining walls and boulder placement
Xeriscaping and turf conversions
Erosion control