Custom Water Features for Reno Landscapes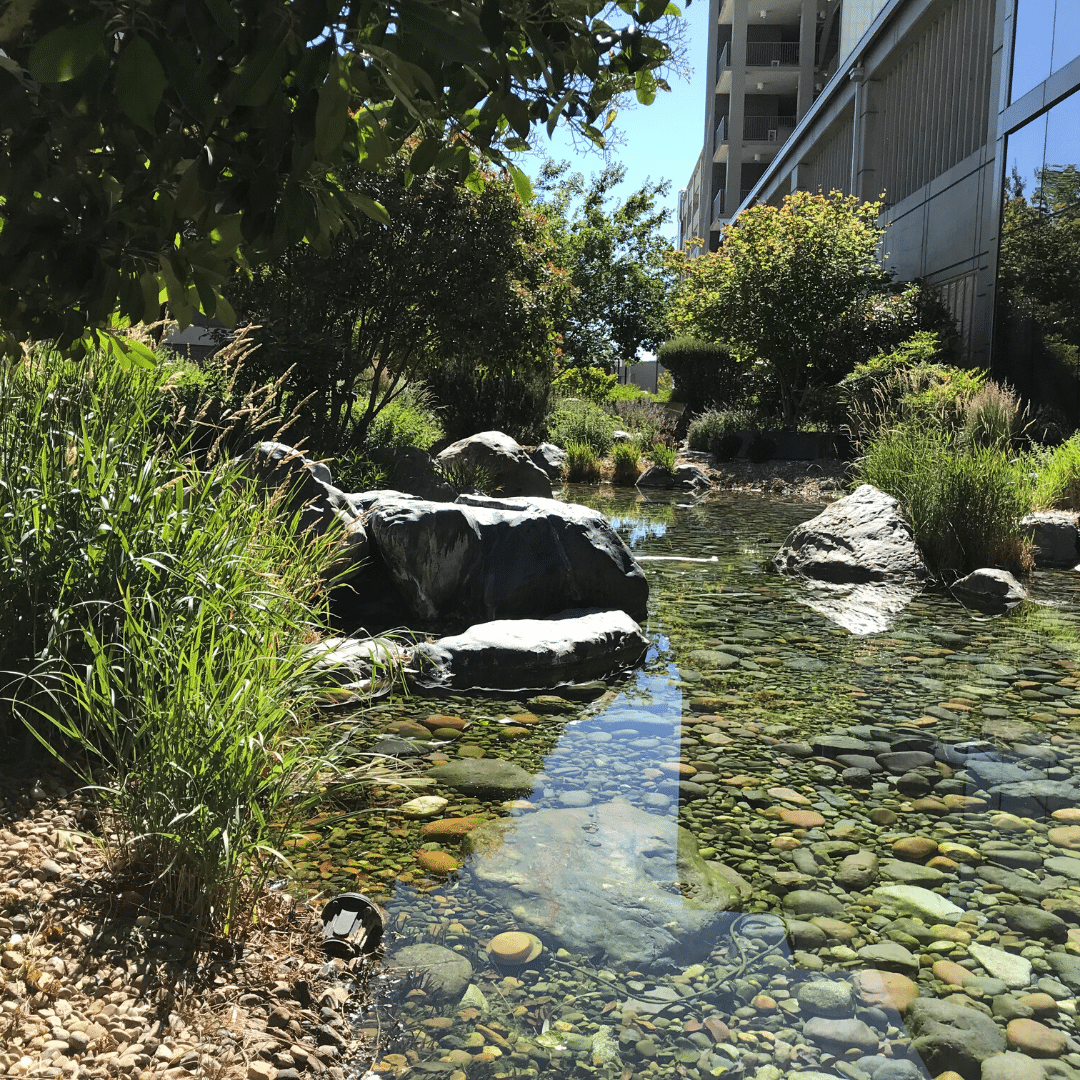 From natural rock waterfalls to custom ponds, water features come in an array of options for backyard landscapes. Our experienced designers are equipped with the expertise to help you incorporate the perfect water feature into your landscape vision.
You may want an outdoor living design for entertaining with an outdoor kitchen, fire feature, and paver water feature. Or a natural-looking waterfall and stream for your relaxing backyard oasis. No matter what your backyard means to you, a water feature can help add sophistication and luxury to your outdoor space.
There are so many styles to choose from when it comes to water features, ponds, and bubbling rocks, so we've compiled some to get you inspired for your next custom landscape design.
Rock Waterfall or Stream
If you want to create a perfect relaxing getaway right in your backyard, a natural stone water feature may be just what you are looking for. You'll hear the soothing sounds of water as it trickles through the river rocks. Install comfortable outdoor furniture or a hammock near your water feature as your special place for complete relaxation.
Rock water features are also great as focal points for landscapes. For both front and backyards, a rock water feature will provide the ambiance and feel of a natural stream running through your yard.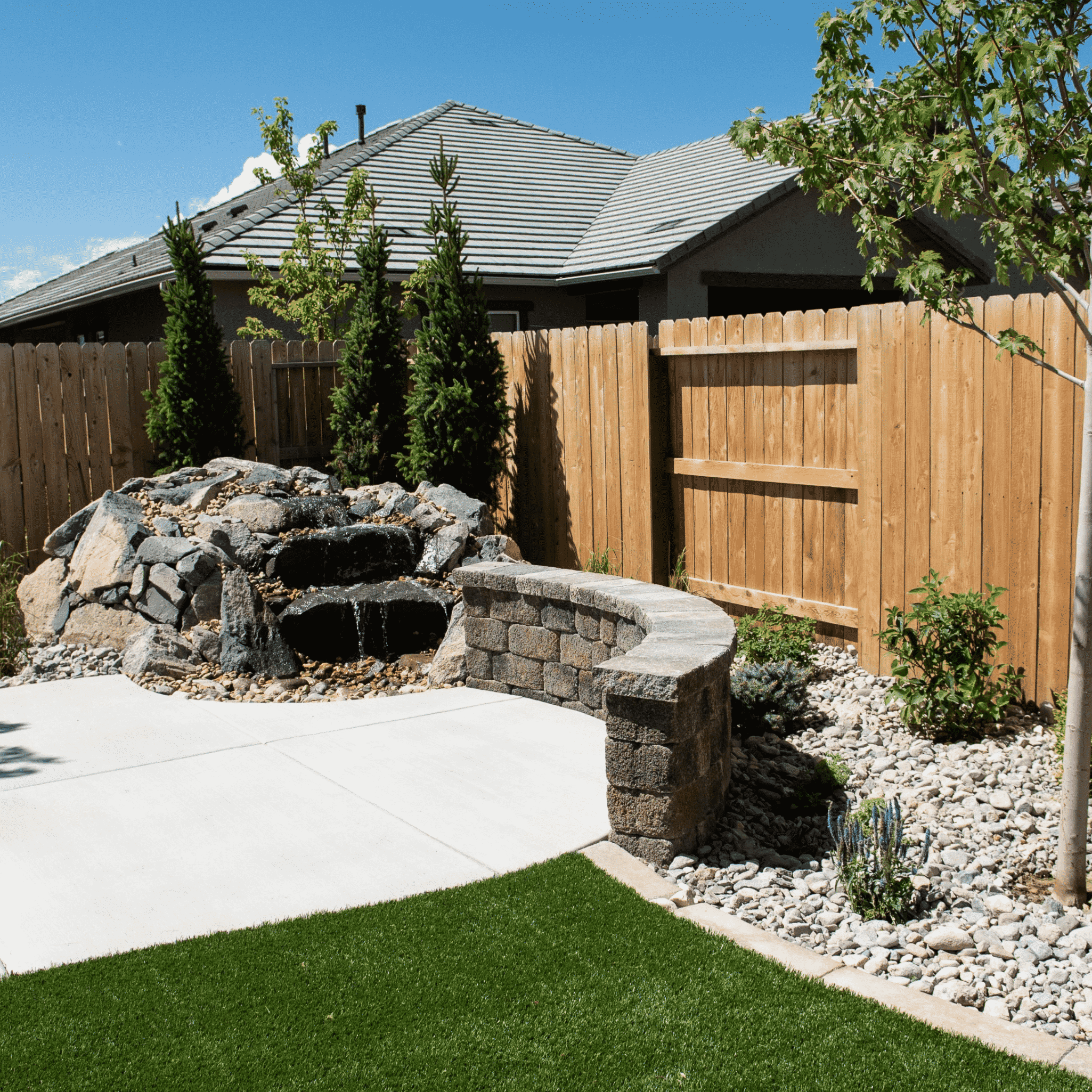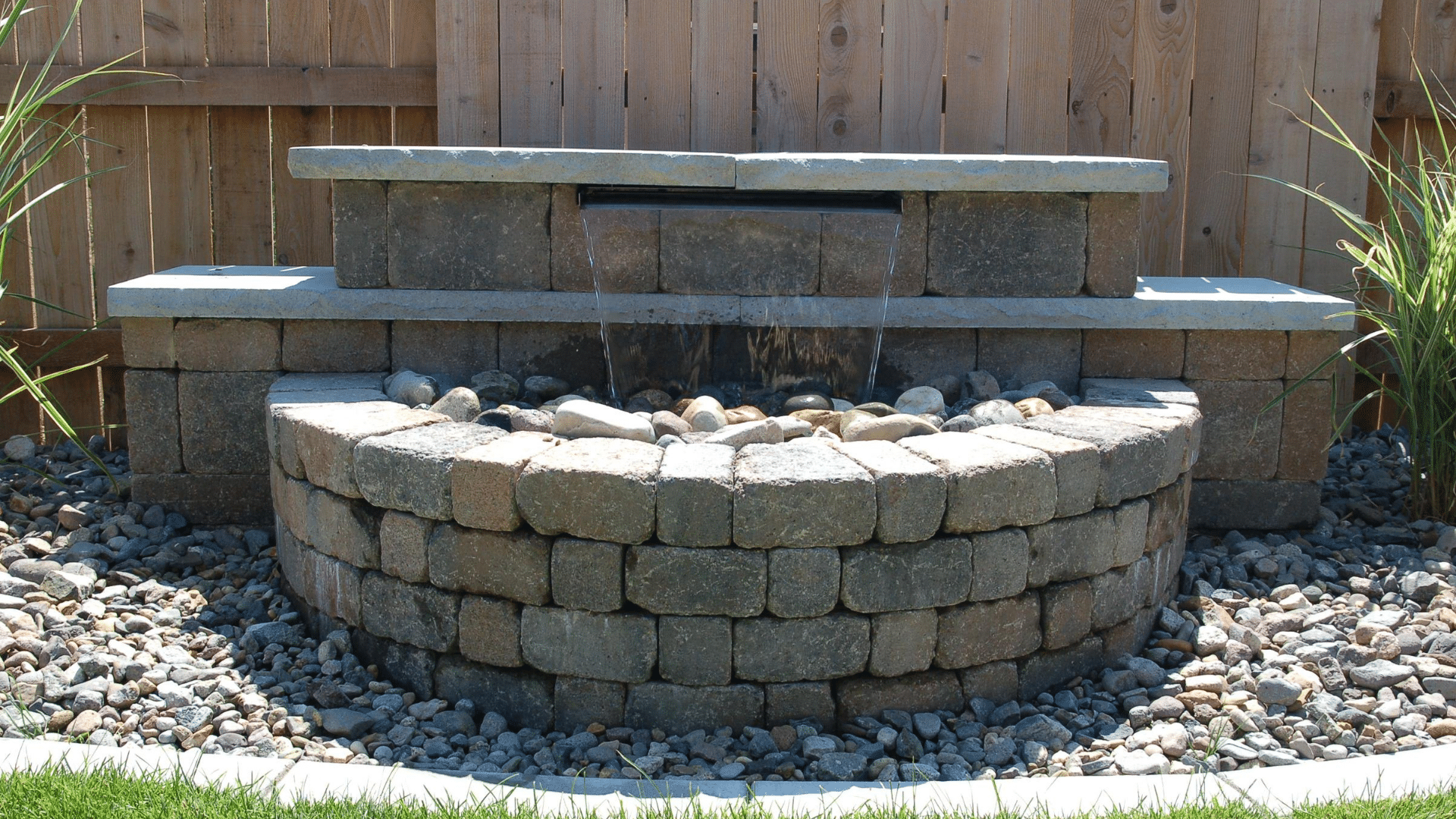 Paver Waterfall
Using pavers to create a custom water feature has a more modern and structured feel. Match the paver design and color-scheme with your paver patio and seat walls to give your landscape a complete and consistent design.
There are many ways we can create a paver water feature, so let our designers help bring your vision to life.
Bubbling Rocks and Boulders
As a focal point or relaxing addition to your landscape, bubbling rocks are as unique as you are. Choose your favorite stones from vertical columns and stacked flat stones to concrete shapes. Match your bubbling water feature to your overall landscape style, whether it be rustic or modern.
Water and Fire
Becoming more common, fire features that are part of water features offer luxurious appeal for any landscape. Some have water flowing over the edges with flames in the middle. Others include waterfall features with flames at the bottom. They are extremely beautiful when added to an outdoor living space, poolside, or near a seating area.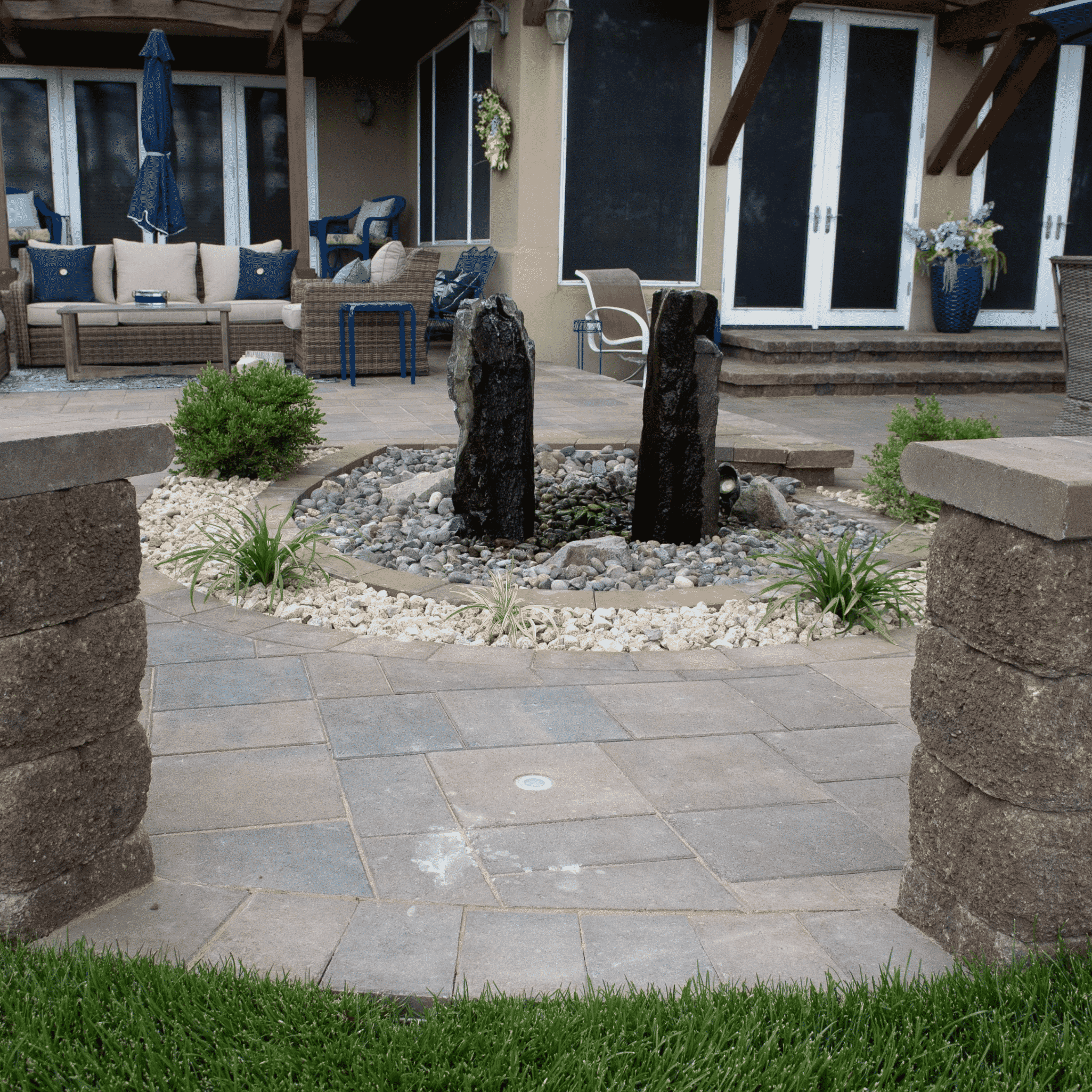 Gabions with Scupper Water Features
For a rustic, yet sophisticated water feature, scupper water features can be installed to gabion walls with river rock. These water features are a creative alternative to traditional water features and are a beautiful and unique backdrop in any landscape.  Varying the type of rock used in the gabion can take this look from farmhouse to modern.
Pond Water Features
From small to large, ponds can be integrated into the landscape as a serene oasis or place to raise koi. You may even want to include a natural rock waterfall to your pond for added ambiance. When adding a pond, think about your backyard space and where you would like it located. You could place it near a dining area for relaxing dinner parties.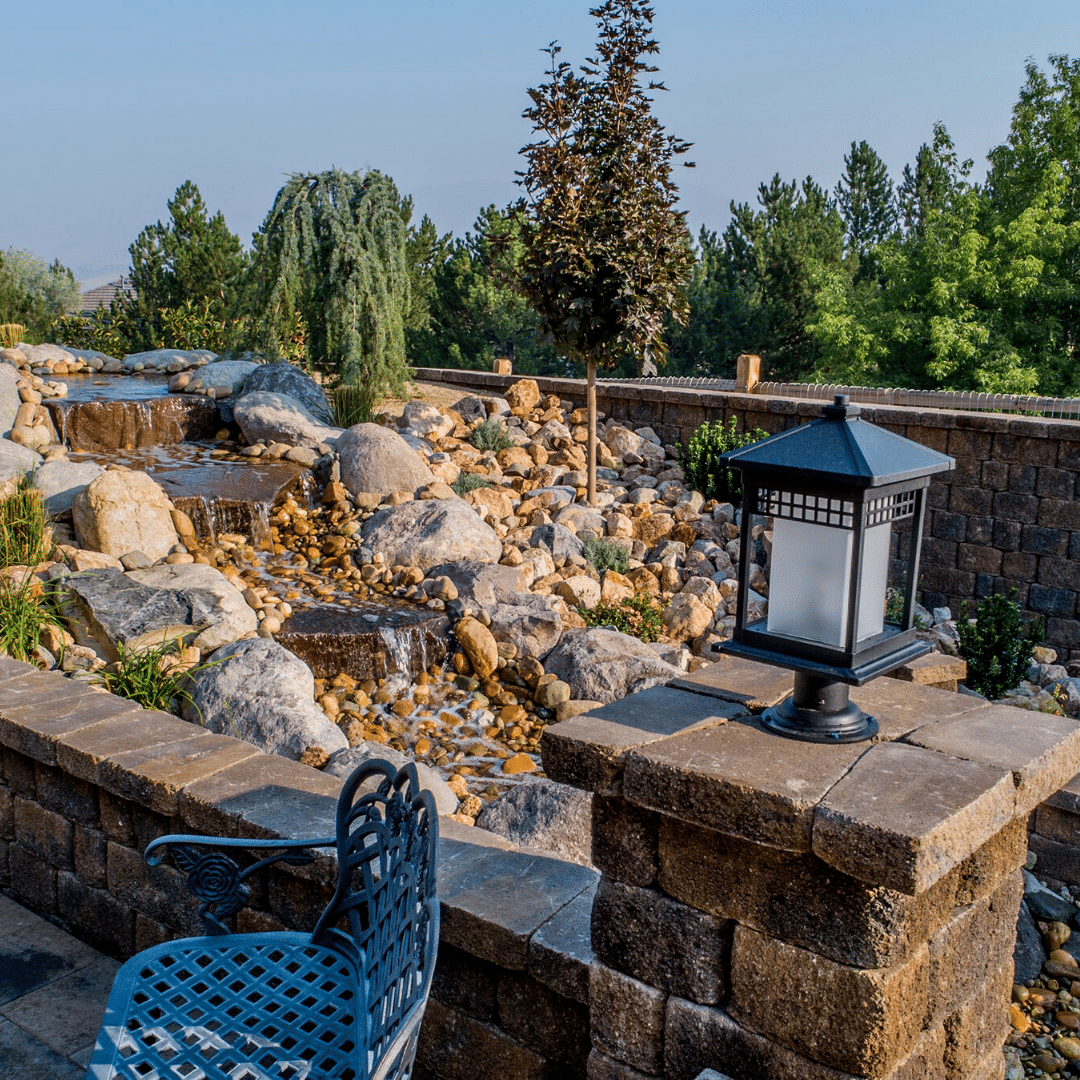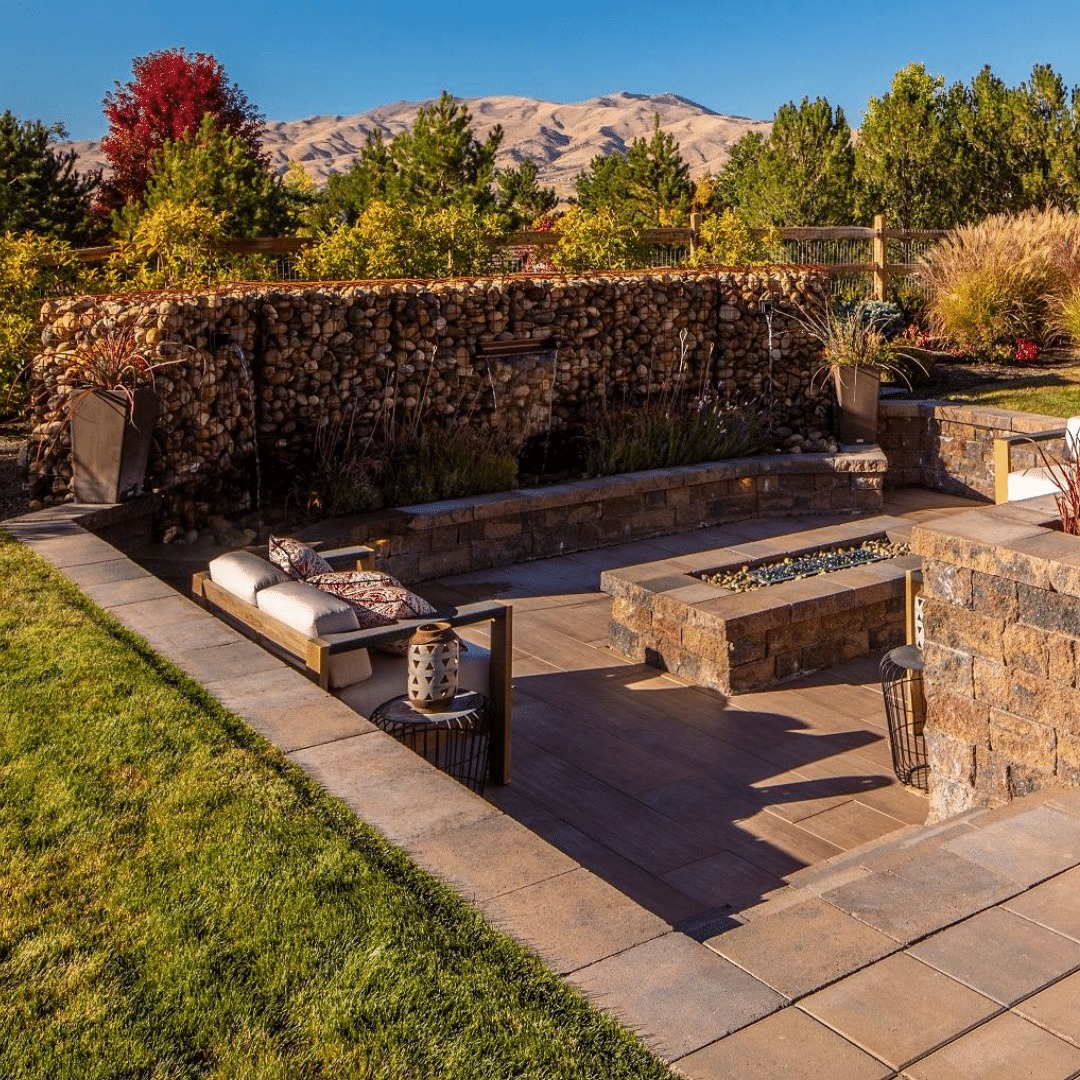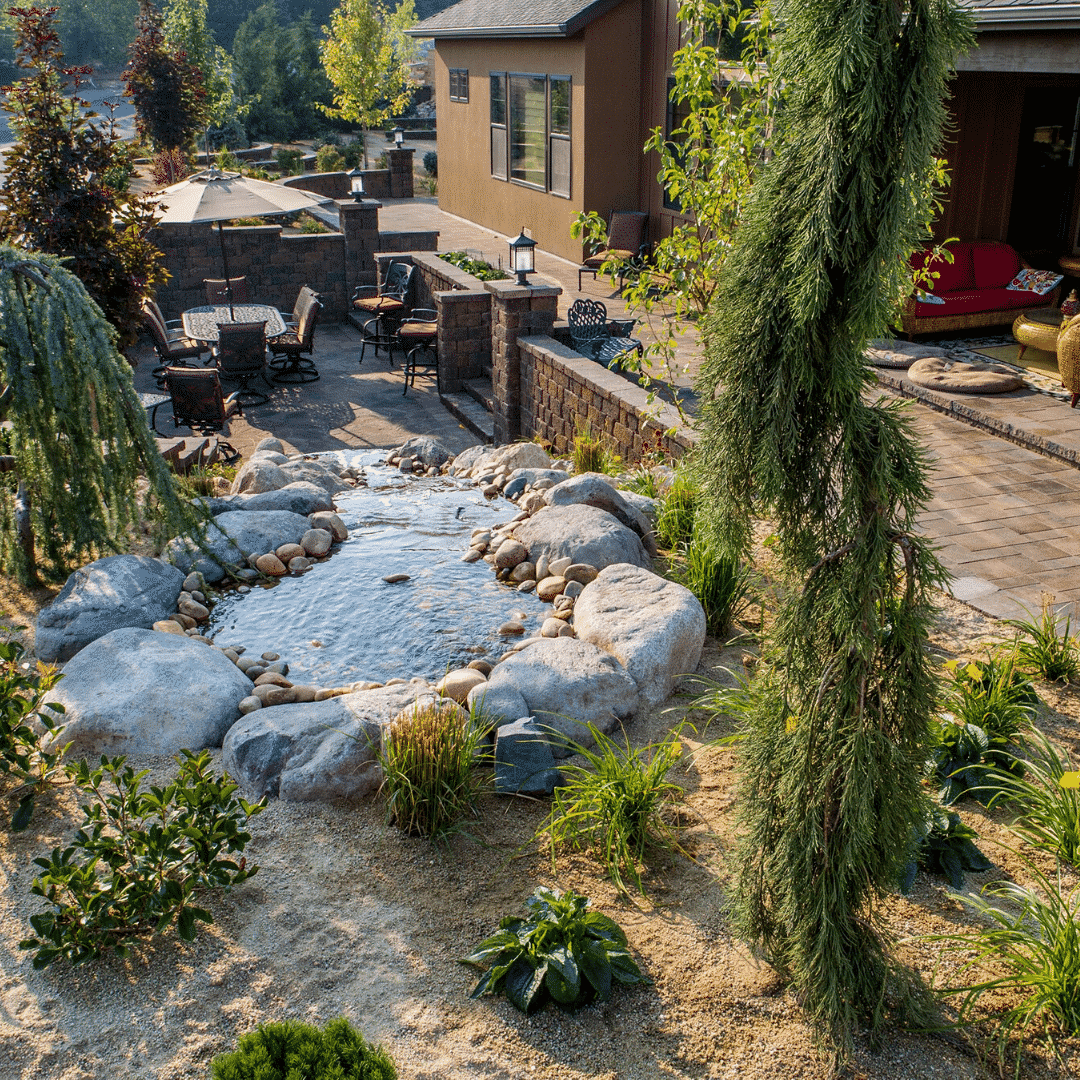 Landscape Lighting for Water Features
Lighting can enhance a backyard atmosphere to promote relaxation or allow parties to go into the night. There are two excellent ways you can add lighting to water features.
Downlights
Downlights can help add a luminous feel to a water feature. You might place lights on tall objects that direct soft light down on a water feature or pool. This mimics moonlight and provides an enduring and relaxing atmosphere for entertaining.
Underwater Lights
Underwater aquatic lighting is a great way to light up a pool or pond. You can add warmth and inviting lights to emphasize water features unique accents. You may also try adding colors that provide a whimsical effect for pool parties.
Are you ready to begin your landscape design with a luxury water feature that reflects your unique lifestyle? Let Reno Green's designers help you bring your vision to life.
DESIGN & INSTALLATION SERVICES
Low-voltage lighting systems
LANDSCAPE MAINTENANCE SERVICES
Weed, debris and leaf abatement
Clean ups
Tree and shrub pruning
Insect and disease management
Water feature maintenance
Planter bed care
Annual color rotations
Winter watering
Activity reports
Irrigation sprinker system repairs and maintenance
System winterization and activation
Water schedule management
Smart controller installation
Irrigation design and installation
Irrigation system retrofits
Water feature maintenance and troubleshooting
Snow and ice control for sidewalks and walkways
Mechanized snow removal for streets and parking lots
Salting/Sanding
Property maps indicating scope of work, snow pile locations and areas of special concern
*Snow and ice control services are available to our current maintenance clients and is offered as a separate contract.