Outdoor living brings the comforts of the indoors to your backyard. By creating a functional outdoor living space, a simple backyard is transformed into a resort-style landscape that radiates luxury.
An outdoor living space brings the indoors outside for a seamless indoor/outdoor experience. By using the layout and structure of design elements to create a sense of space in your landscape, your outdoor space will provide the luxurious benefits of the indoors with the splendor of the outdoors. Outdoor style rooms such as dining rooms, living rooms, and kitchens offer places to cook, entertain, and relax in comfort. By adding indoor accents such as pillows, decorative décor, potted plants, and lighting, you can create a lush outdoor living space.
We've compiled some outdoor living ideas to get you inspired for your landscape installation.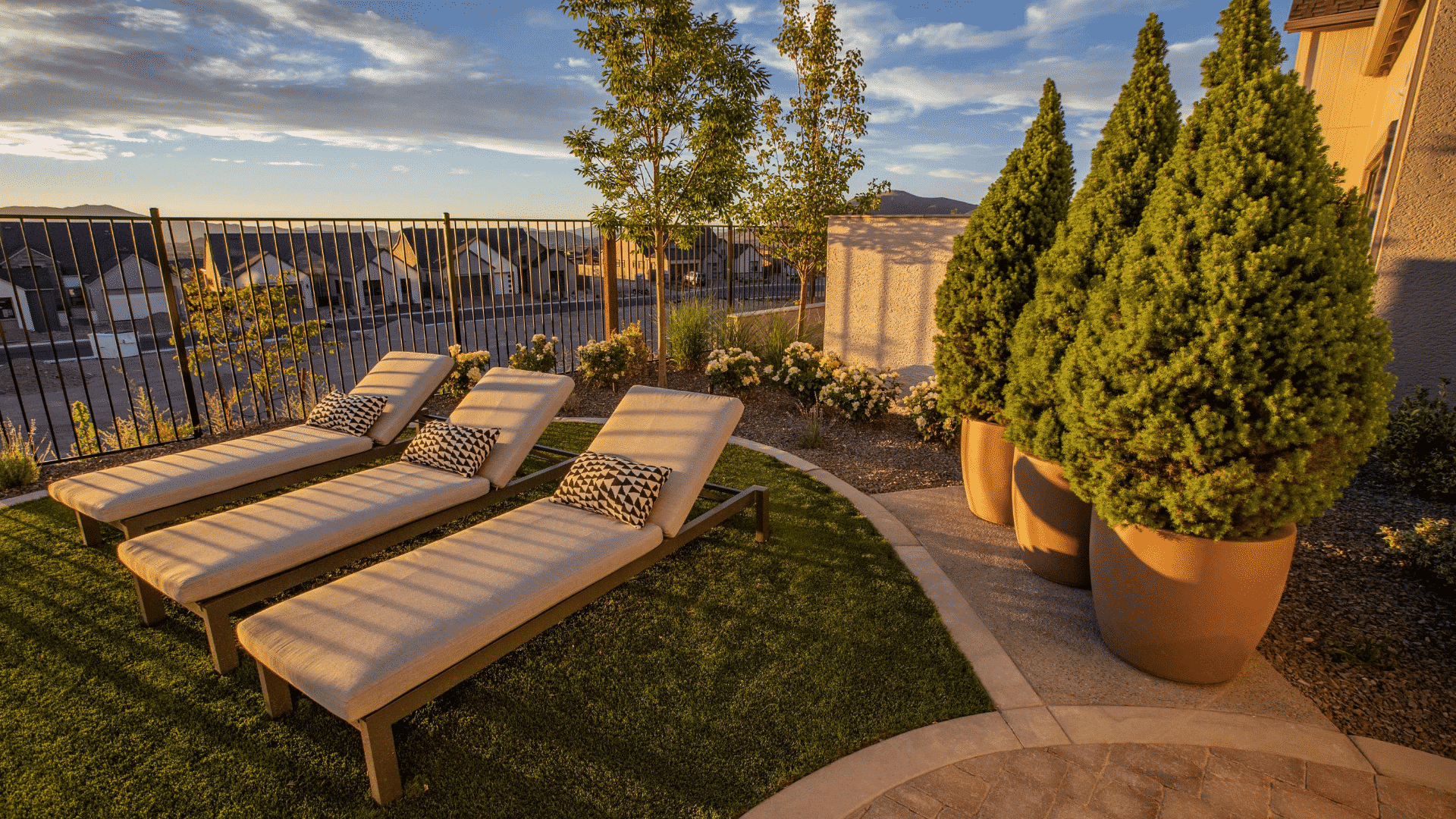 Contact us for your complimentary consultation today!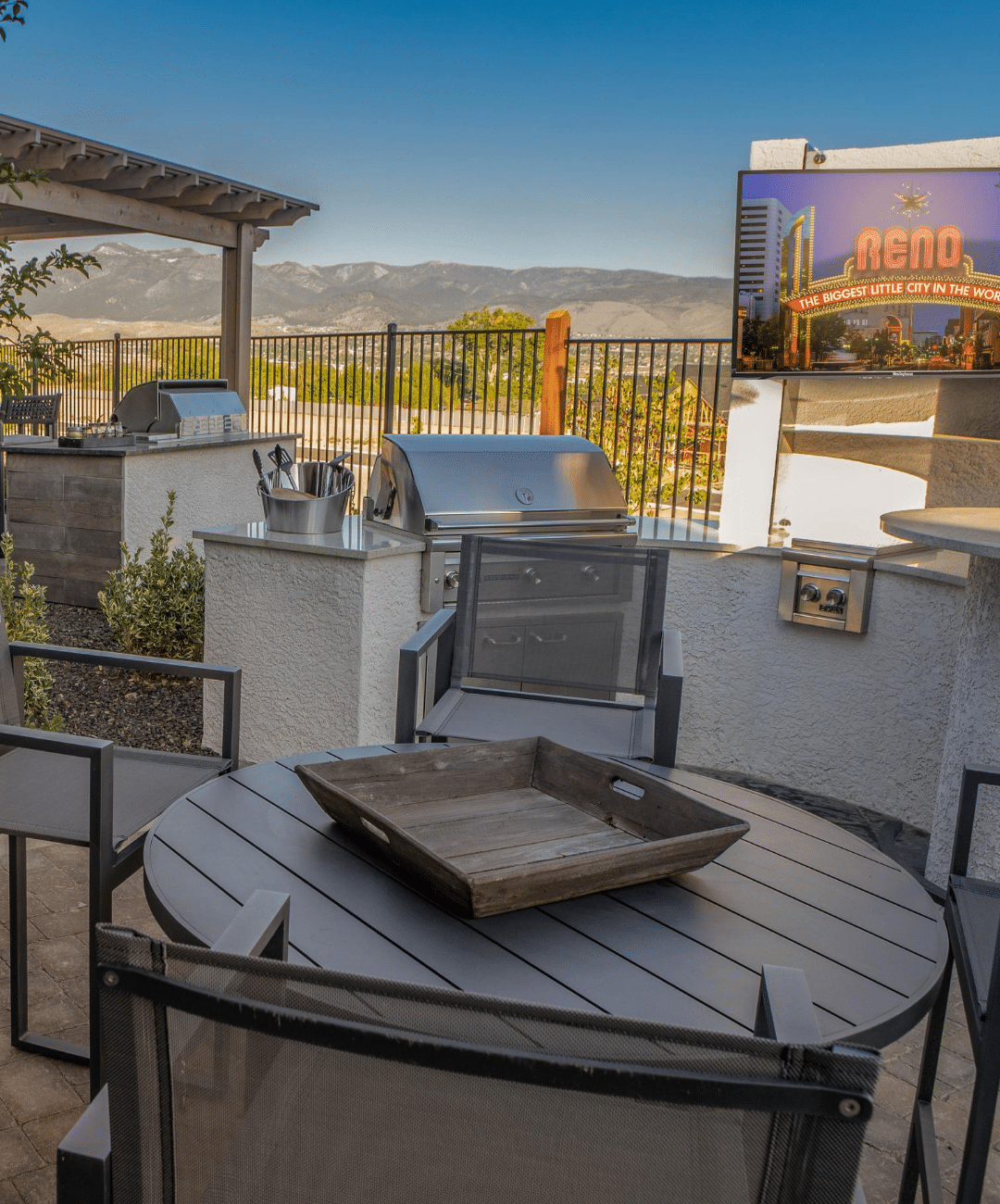 There are many ways you can incorporate an outdoor cooking area in your landscape. From a small barbeque area to an entire outdoor kitchen with a sink, fridge and pizza oven, you have many options to choose from.
Depending on your landscape size and preference, our detail-oriented designers can create your outdoor space to include a fully equipped outdoor kitchen area, complete with countertops for cooking space, bar with bar stools and high-end BBQ grill so you can grill in luxury. You may want an outdoor kitchen island with stainless steel faucet and cabinetry and decorative backsplash to achieve a flawless outdoor living design.
Our landscape designers effortlessly incorporate softscape with hardscape for aesthetic appeal and functionality.
Designed for gathering and socializing with friends and family, a fire feature may be just what your outdoor living space needs for year-round entertaining.
Fire pits and fireplaces are great for relaxing on summer nights and for warmth in the cool winter months. Reno Green Landscaping's award-winning designers will help you choose the perfect style and material for your dream fire feature.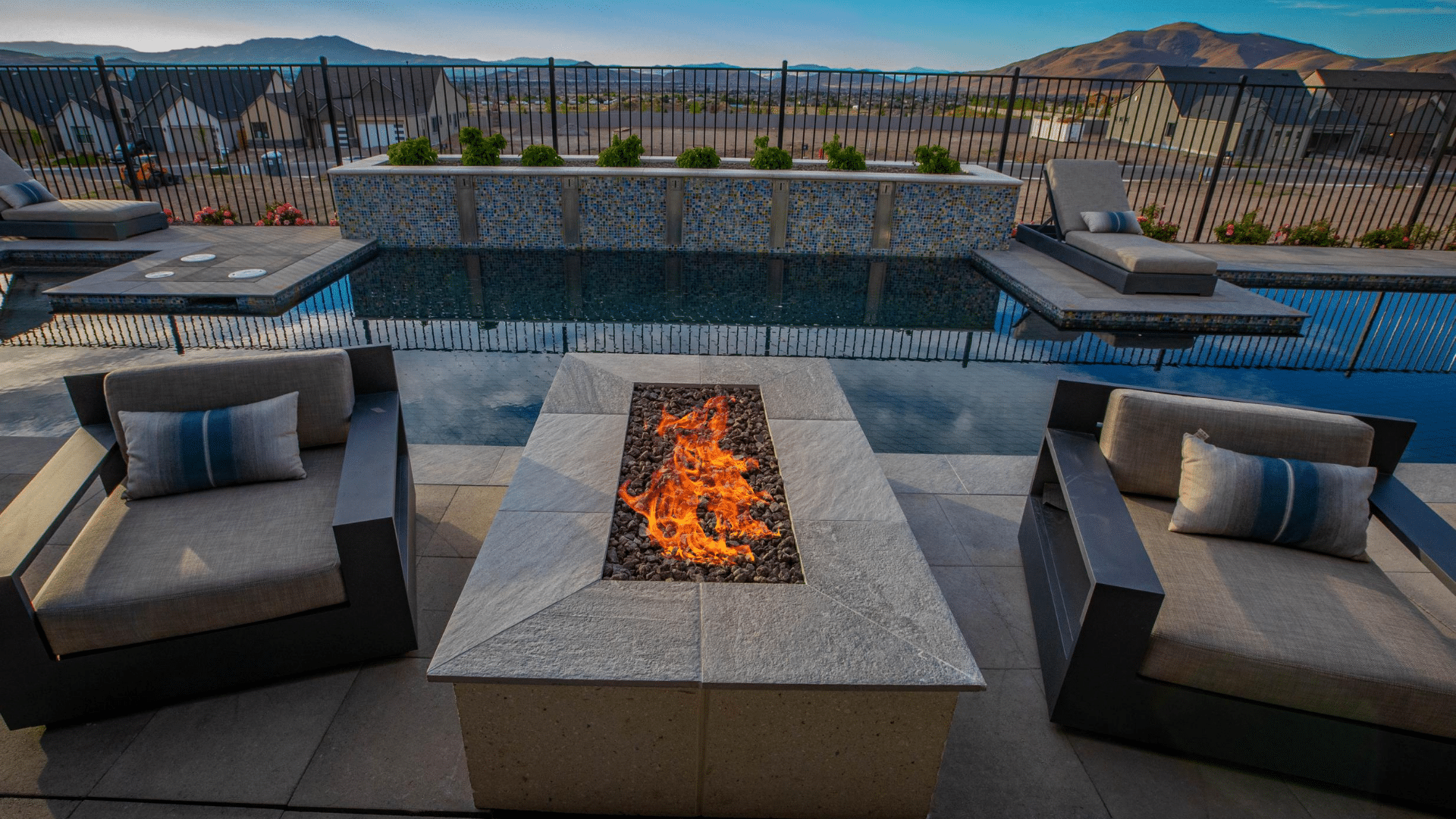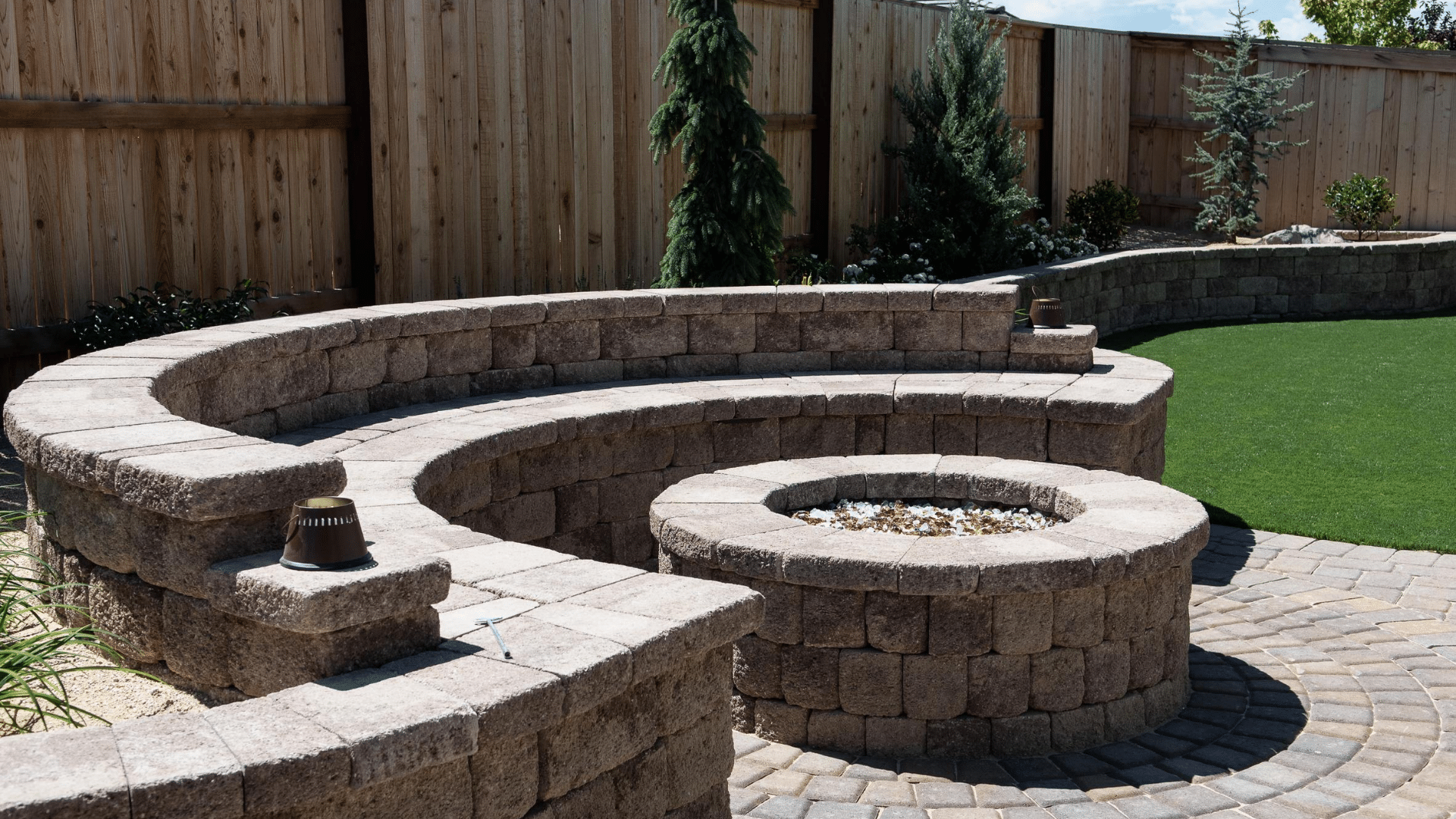 Outdoor Living Wall Planters
Living wall planters are beautiful additions to any landscape design. They are becoming more and more popular for herb gardens, perfect for picking fresh herbs for outdoor cooking.
A wall planter adds live greenery to a hardscape area, softening the edges and providing a pop of color. Wall planters are vertical, so they are great for smaller landscapes where you may not have space for large plantings.
Let our designers help you decide how to incorporate a living wall planter into your landscape design.
A water feature will complete a relaxing, resort-style atmosphere for your outdoor living space. A natural rock waterfall can be a relaxing oasis with the soothing sounds of trickling water. Our landscape designers can help you integrate a unique water feature into your outdoor living design.
Pergolas and Gazebos
Add shade and structure to your backyard landscape with a pergola or gazebo. Pergolas and gazebos can accent an outdoor dining or gathering area, creating a sense of place and purpose to an outdoor living space.
You can match that pergola to your home color-scheme or leave it a natural wood color. Remember to pick a style and be consistent with it throughout your landscape design for a cohesive and aesthetically pleasing outdoor living area.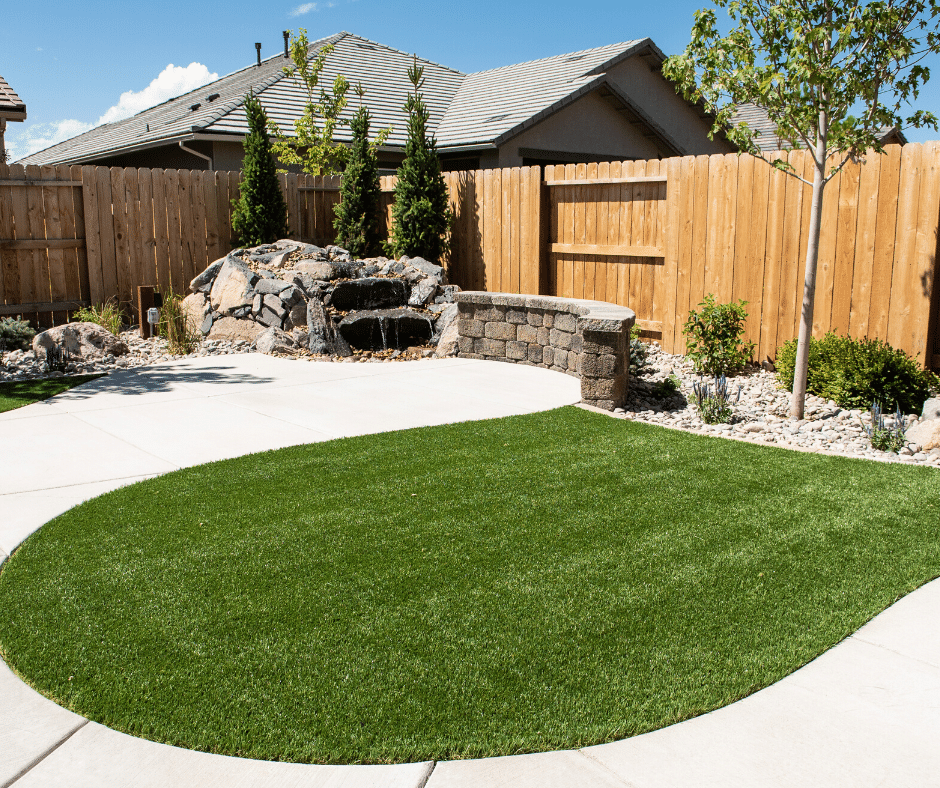 Outdoor Theaters
Becoming more popular in outdoor living landscapes, outdoor theaters are great for backyard parties or relaxing with your family. Depending on how permanent you want your outdoor theater, it may be as simple as a place to hang a cloth for projecting movies or a covered area with a television and permanent seating.
Our backyards are becoming our favorite places to gather, entertain and relax. With a professionally designed and installed outdoor living design, you will enjoy your landscape for years to come!
Reno Green Landscaping's award-winning landscape designers will create an outdoor living space that provides you with both functionality and elegance. Equipped with an outdoor kitchen, dining area, fire pit and water feature, your outdoor space will be your first pick for gatherings and events.
DESIGN & INSTALLATION SERVICES
Low-voltage lighting systems
Holiday lighting
LANDSCAPE MAINTENANCE SERVICES
Weed, debris and leaf abatement
Clean ups
Tree and shrub pruning
Insect and disease management
Water feature maintenance
Planter bed care
Annual color rotations
Winter watering
Activity reports
Irrigation sprinker system repairs and maintenance
System winterization and activation
Water schedule management
Smart controller installation
Irrigation design and installation
Irrigation system retrofits
Water feature maintenance and troubleshooting
Snow and ice control for sidewalks and walkways
Mechanized snow removal for streets and parking lots
Salting/Sanding
Property maps indicating scope of work, snow pile locations and areas of special concern
*Snow and ice control services are available to our current maintenance clients and is offered as a separate contract.