Outdoor Garden Containers for Every Season
Looking for inspiration for your garden containers for every season? We've got everything you need to create gorgeous containers to increase curb appeal for your property for each season. 
Spring Garden Containers
Spring is a time for rebirth, when the sun warms the earth and flowers begin to bloom. Our earliest blooms are daffodils and crocus giving us delightful color before the trees have leaves. Spring is the perfect time to start your decorative containers with both bright and pastel colors to welcome the warmer weather.
There are so many creative ways you can bring in the spring season with decorate containers. We've compiled a list of plants we think are perfect for spring containers as well as some websites with ingenious container inspiration and ideas!
A short list of spring plants:
African daisy
Arugula
Bachelor's Button
Calendula
Crocus
Coral Bells
Daffodil
Endive
Green leaf lettuce
Heather
Hyacinth & Grape Hyacinth
Lobelia
Pansy
Pentunia
Radacchio
Snapdragon
Snowdrops
Tulip
Viola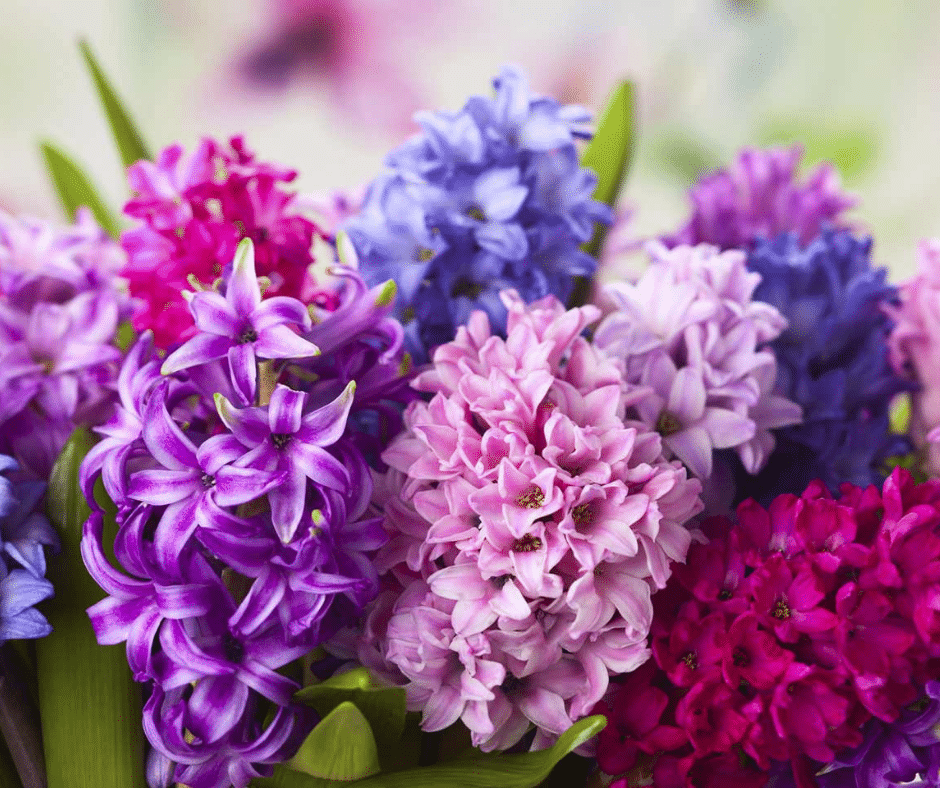 Summer Garden Containers
Summer is all about sunshine and bright, warm colors! Fill your summer containers with complimentary colors such as neon pink and lime green. Try using an array of colors and textures in your garden pots, including bright yellows, oranges, reds, purples and pinks. Don't forget to include varieties that spill over the edges of pots such as potato vine, creeping Jenny or petunias.
Try finding colorful containers that pop with colorful plants. For example, pair a teal pot with purple petunias. We've compiled a list of annuals and perennials we think are perfect for summer containers as well as some ideas for summer inspired containers!
A short list of summer plants:
Amaranth
Alyssum
Artemisia
Begonia
Dianthus
Dusty Miller
Dwarf bougainvillea
Calibrachoa
Coleus
Cosmos
Creeping Jenny
Delphinium
Euphorbia
Geranium
Gerbera daisy
Impatiens
Lantana
Potato vine
Petunia
Purple heart
Black and blue salvia
Verbena
Vinca
Zinnia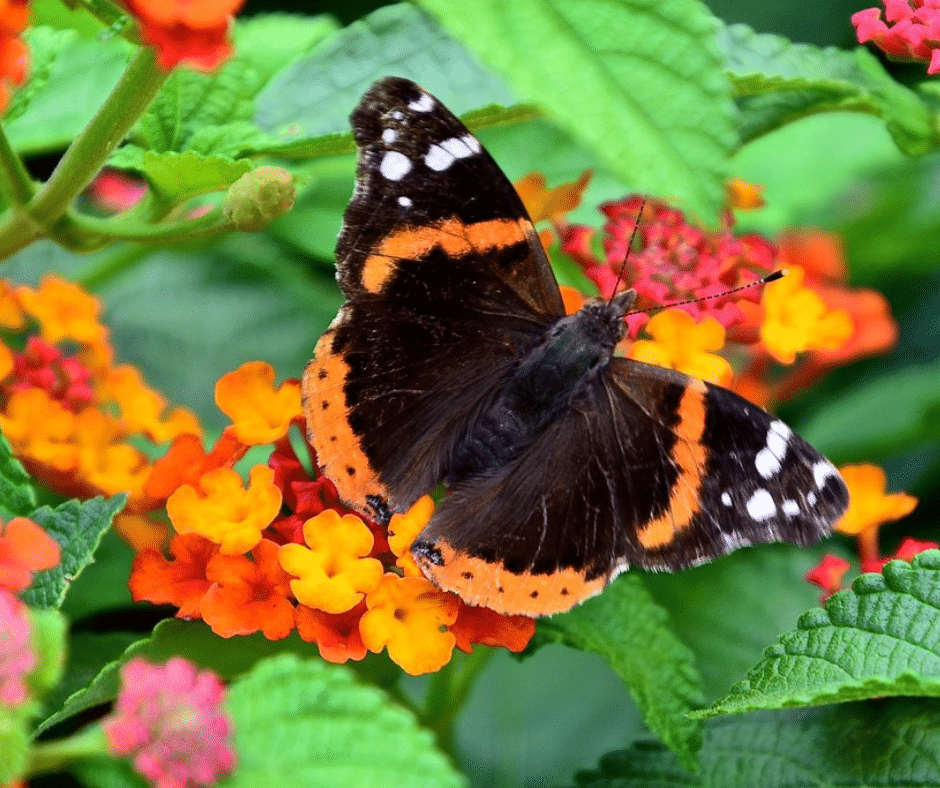 Summer inspired containers:
Fall Garden Containers
When autumn arrives, the ambiance changes from summer's bright sun to fall's warm oranges and reds. In northern Nevada, we start getting cooler mornings and windier afternoons. Leaves begin to fall signaling the beginning of a time of dormancy, though that doesn't mean we can't use the last few months before winter to enjoy some color in our gardens!
Fall inspired containers may be focused on Halloween or Thanksgiving with holiday decorations abound. Pumpkins and gourds can be used as accents. Pops of yellow, warm pink and cool purple are great for fall containers. We've compiled some annuals and perennials we recommend for fall inspired containers as well as some website for inspiration.
A short list of fall plants:
Aster
Begonia
Black-eyed Susan
Calendula
Celosia
Chrysanthemum
Coneflower
Dianthus
Flowering Kale
Ornamental cabbage
Ornamental pepper
Pansy
Purple fountain grass
Marigold
Mums
Nasturtium
Stonecrop
Sunflower
Sweet Alyssum
Viola
Violet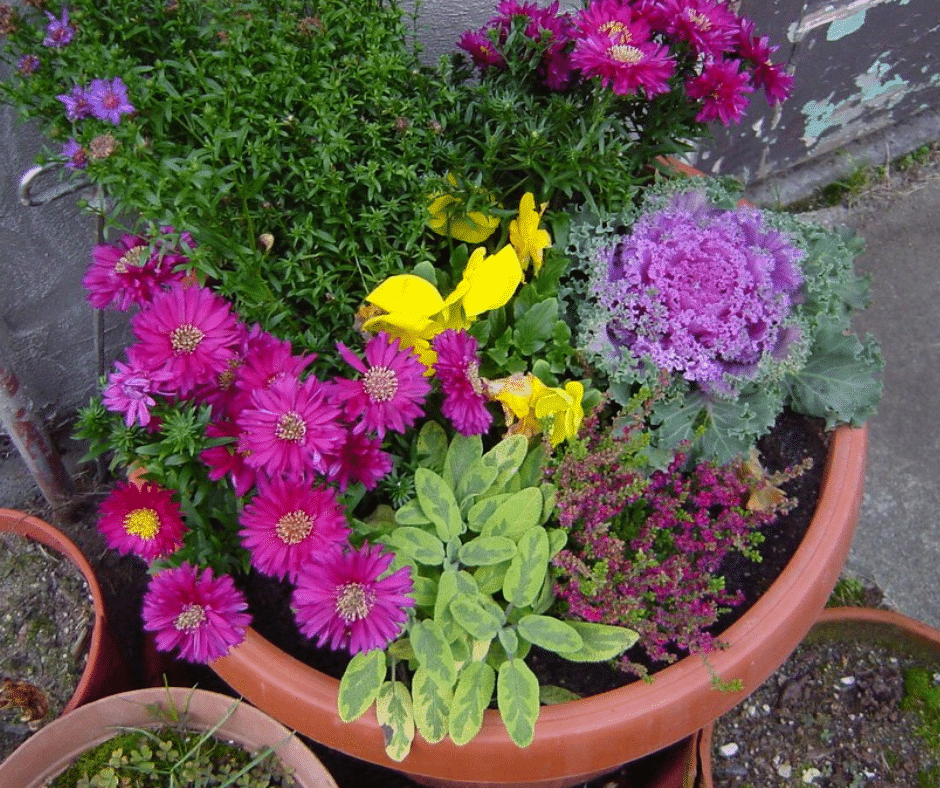 Winter Garden Containers
When winter weather finally sets in for northern Nevada, it can be anywhere from October to February. We never truly know when our 'fall' season will end and the freezing, snowy weather of winter will begin, though we can still enjoy the festivities of winter holidays with creative winter container gardens.
As soon as your fall plants begin to fade or freeze, start your winter-themed container! There are lots of plants that do well in our cool climate that you can incorporate, however, we also suggest using evergreen cuttings, seasonal branches with berries, ornaments, and pinecones for creative and festive containers. We've listed some plants and décor you may want to try during winter in your containers as well as some web links to give you some inspiration on festive winter containers.
A short list of winter plants:
Annual grasses
Artemisia
Dwarf evergreen shrubs
Flowering cabbage
Flowering kale
Lamb's ear
Sage
Sedum
A short list of plant winter décor:
Birch or aspen branches
Holly branches with berries
Juniper, pine, spruce or fir branches
Manzanita branches
Pinecones
Red or Yellow-twig dogwood branches
Seed pods
Winter inspired containers:
We hope these creative container ideas will give you inspiration for your garden containers for every season. As part of our maintenance contracts, we offer annual color rotations to keep your property looking its best year-round. We choose colors that match the season and look stunning in your landscape. For commercial landscape curb appeal to residential front porches, our installation crews can have your property looking fantastic with garden containers for every season! Contact us today for a
complimentary estimate
.