Garden Style Series: Modern Landscaping
Modern landscaping style is marked by dramatic contrast, geometric shapes and symmetric design. Originally, modern landscaping was created as a juxtaposition to traditional landscapes that evoked the urge to garden and maintain. A modern landscape was designed for relaxing and enjoying nature, without the nagging need to take care of the landscape. Modern landscaping has grown to be the staple for outdoor living design, which seamlessly blends the indoor and outdoor spaces with emphasis on entertaining and gathering. Today, modern landscapes have
outdoor kitchens
with dining areas,
fire
and
water features
, and shade structures. Paired with modern style homes that feature floor to ceiling windows, indoor/outdoor transitions, and areas for entertaining, a modern landscape design embodies luxury and elegance. Modern landscapes also feature sustainable landscape design with permeable surfaces, rainwater collection, solar and wind power, and easy composting.
Modern Landscaping Design Elements
Symmetry
Modern landscapes don't usually contain asymmetrical design, unless used in a repetition. Modern landscape designs use geometric shapes, symmetrical elements and clean straight lines for a sense of sophisticated style. This can be seen in hardscaping and repetition of plant material.
Corners of walkways are squared off, rather than curved as you may find in more traditional landscape design. Plants are not grouped in threes, but instead laid out in grids or rows of repeating plants.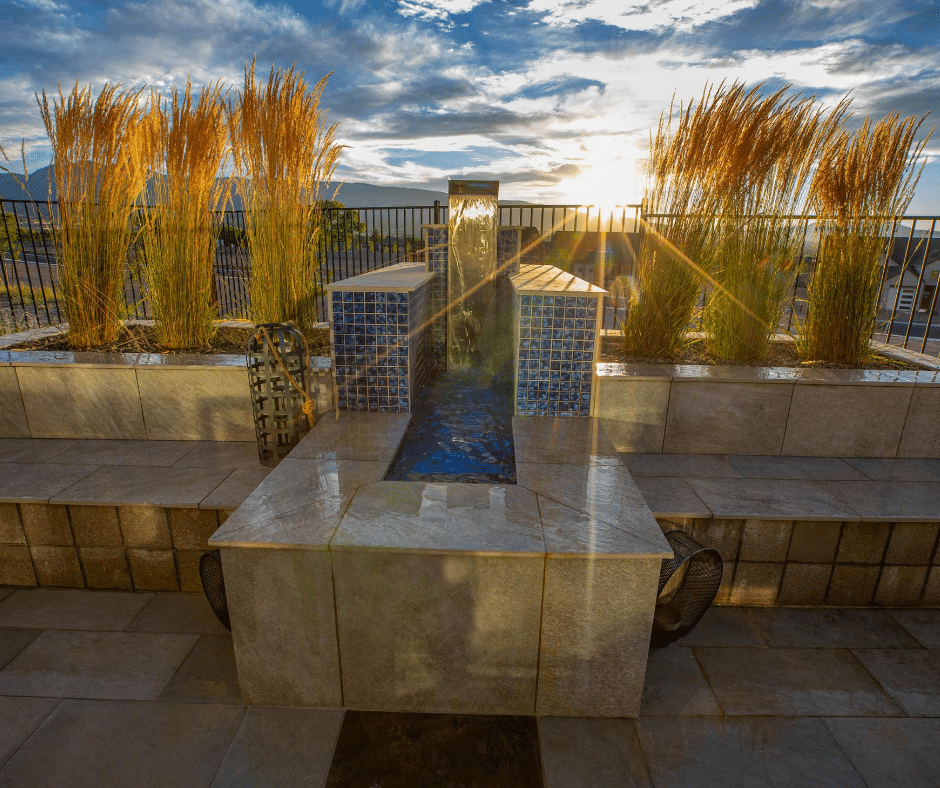 Natural Interruptions
Modern landscape designers create interesting ways for nature to interrupt the starkness of hardscaping. These interruptions break up the space as well as add aesthetic appeal.
For instance, concrete walkways laid out in grids may have grass growing between the slabs. Another example is using porcelain pavers as steps, though instead of laying them in a line, they are staggered with grass or inorganic mulch surrounding them.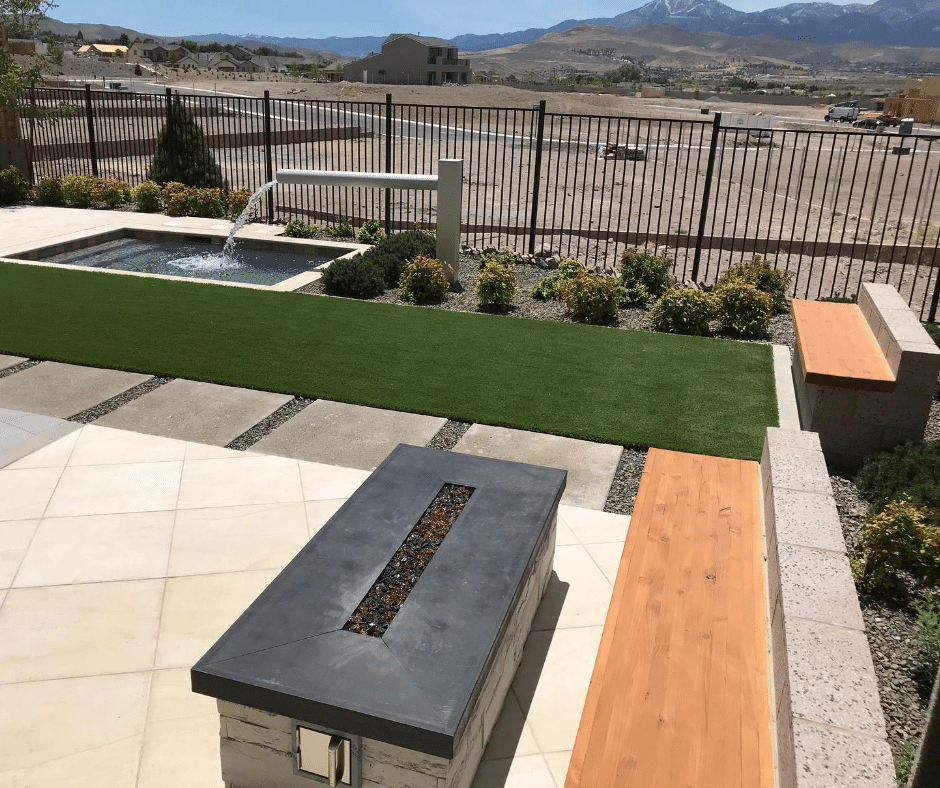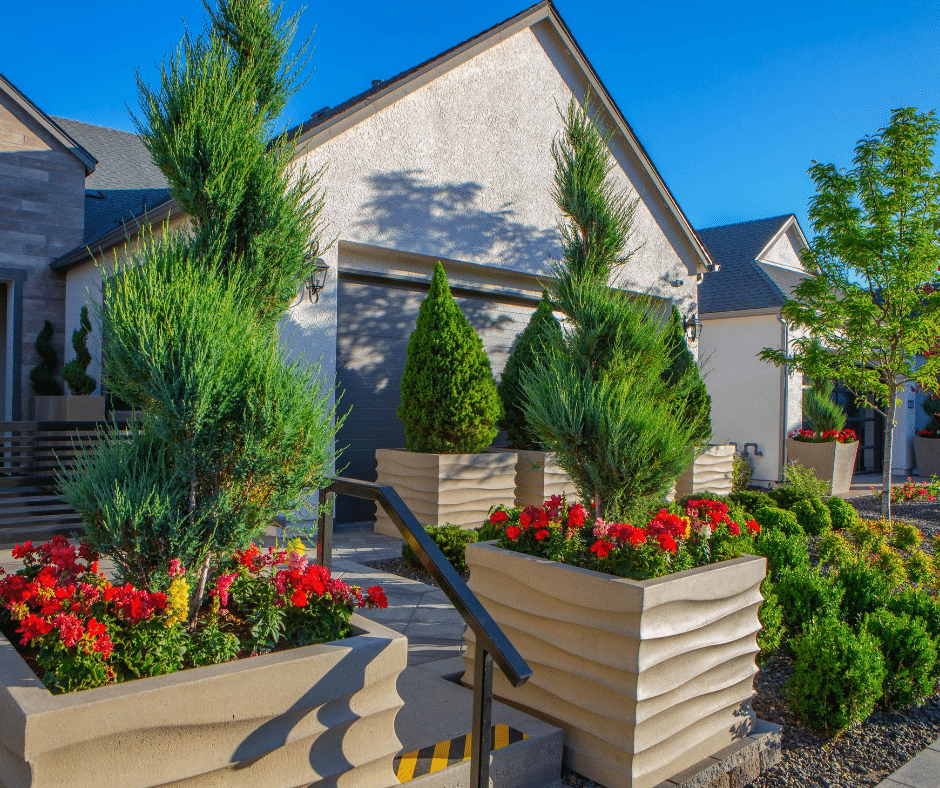 Mixed Textures
A modern landscape will have a balanced scale with consistent features throughout. Amongst the consistency, you will find a specific mix of textures from hard concrete to soft ornamental grasses. A blend of straight lines and hard corners with soft plant material creates a clean and relaxing design. Aside from plant material,
hardscapes
are often mixed in texture from concrete and pavers to corrugated metal. Hardscaping materials always accent each other to create a beautiful and dramatic effect, while staying stylish and controlled.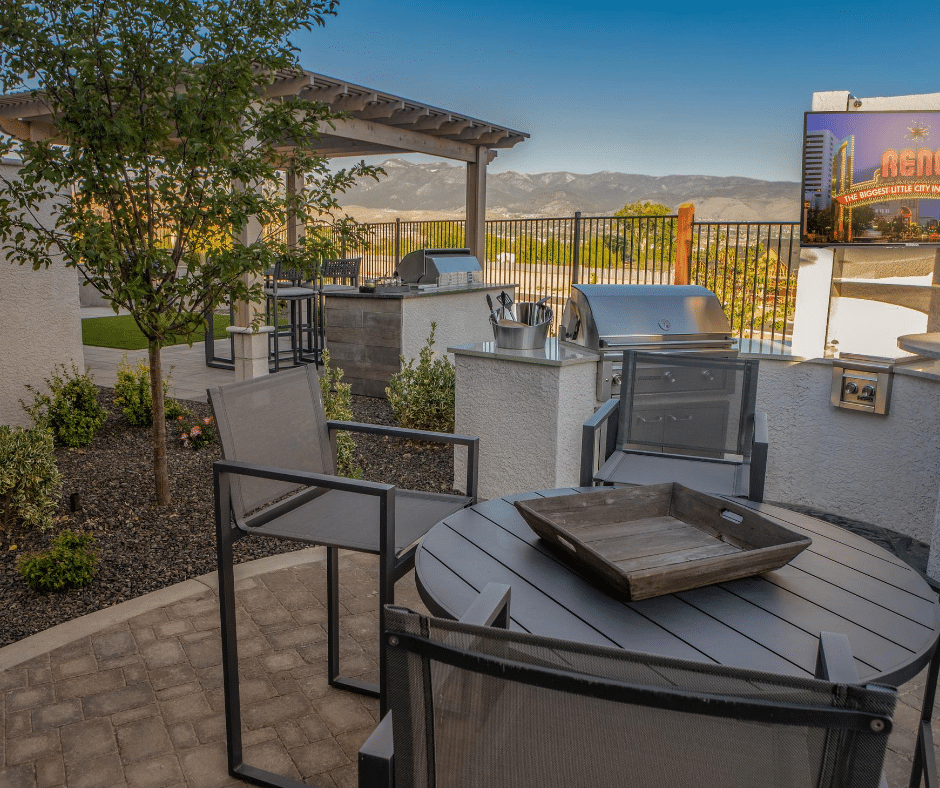 Limited Use of Color
Though textures are mixed in modern landscapes, color schemes stay rather neutral. With neutral hardscaping, modern landscape designers use foliage plants, as opposed to flowering plants, to draw the eye to outdoor living elements.
Often homeowners will add pops of color such as outdoor furniture pillows, seat cushions or accessories to lure visitors to relaxing seating areas. This further displays the emphasis on entertainment over maintenance.
Landscape Lighting
To provide a dramatic contrast in the landscape in the evenings, landscape lighting is frequently used. Lighting can be used on plant material, outdoor living elements or as down lighting for walkways.
Lighting is also added to water features and pools provide added visual effects and ambiance.
Modern Landscaping Materials
Low Maintenance and Manicured Plants
Plants are generally compact and require limited maintenance in modern landscapes. Very seldom will a modern landscape have flowering perennials that need deadheading or regular pruning. It is more common to have trees, shrubs and ornamental grasses used in modern landscapes. Rather than planting annual flowering plants, which are not as sustainable,
modern landscape designers
incorporate artistic sculptures to entertain and add interest to the landscape.
Industrial Materials
Modern landscape designers use more industrial style materials as a stark contrast to soft plant materials. You will see more concrete, rock, pavers, corrugated metal, and fiberglass than bark mulches or wood decks. If a mulch is used, it is usually a rock, gravel or decomposed granite (DG).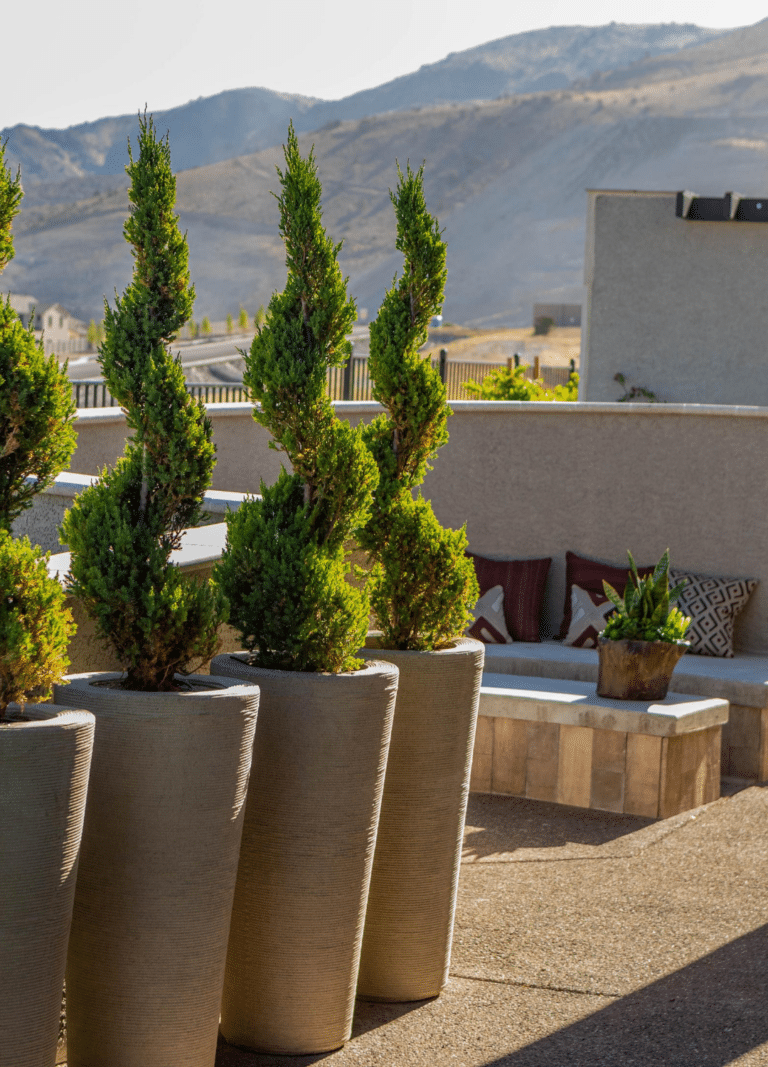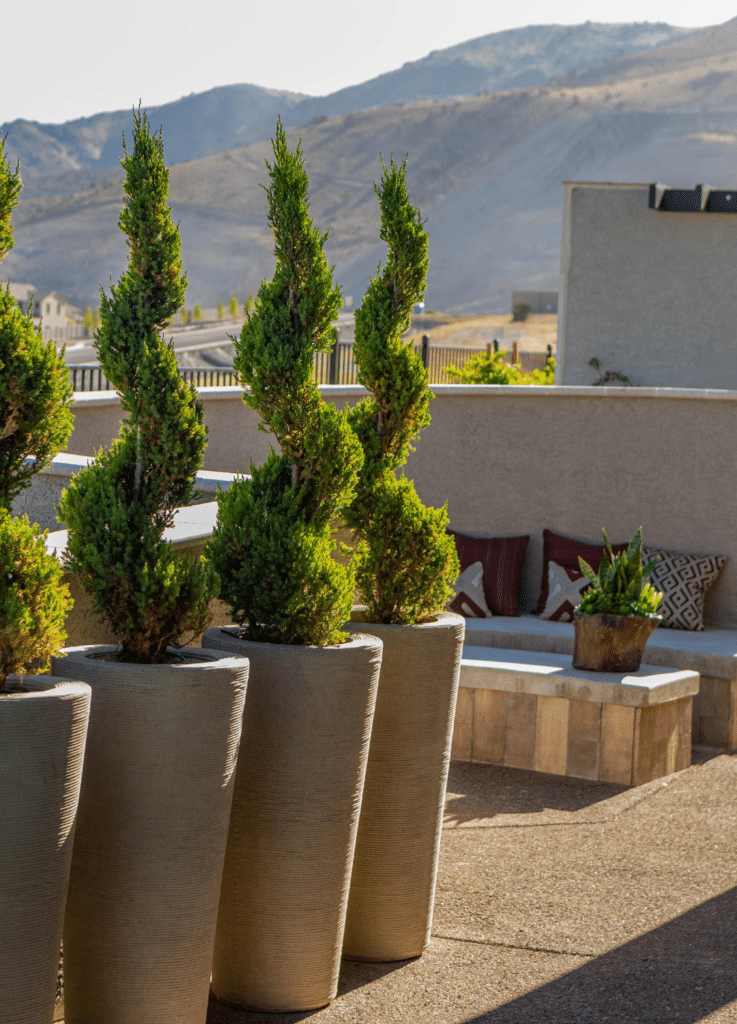 A modern landscape is the perfect style for you if you are looking for an indoor/outdoor living design. And just because you want some elements of a modern design, doesn't mean you have to follow all the rules of the style! There are many ways to incorporate modern landscaping elements into a design. Let our experienced designers help you bring your modern landscape vision to life.
Request a free consultation today!