Selecting a landscape company or landscape contractor can be tough with dozens of companies in northern Nevada. No matter what company you choose for your landscaping services, these are the questions to ask before hiring a landscaper to design, install or maintain your landscape.
1. Does the landscaper have a business license and are they a licensed landscape contractor?​
This may be an obvious one, but it's important to ask the right questions upfront about the scope of work, before any work is done on your property. All landscaping companies and landscape contractors should have a valid business license, in all cities and counties they do business in, and if they complete landscaping projects, including retaining walls, paver patios and more, they also need a contractor's license. License numbers are public knowledge and can be found by contacting the government office in the area you live in.
If a company isn't properly licensed, it's not only a liability insurance concern for you, especially if a crew member gets hurt on your property, but also a quality concern. Properly licensed landscape construction companies also provide higher quality services from the design to the installation.
Reno Green Landscaping is a licensed business in:
City of Reno (#100623)
City of Sparks (#050779)
Carson City (#14-00004268)
Washoe County (#B1204826)
Placer County (#100584)
We are a full-service landscape contractor and we have contractor's licenses in both Nevada (#18214, #79827) and California (#878739), a Nevada License to sell nursery stock (#7378) and Nevada Department of Agriculture Pest Control License (#1587).
2. Do the landscapers have education in the landscape field?
At Reno Green, we believe employee education is pertinent. Our employees attend regular safety, OSHA and retaining wall training as well as horticulture and irrigation training offered by the 
University of Nevada, Reno Extension
. We don't do this for our business alone, but for our employees' success in the industry. When you choose a landscape company with trained landscaping professionals, you are ensuring the job gets done right the first time.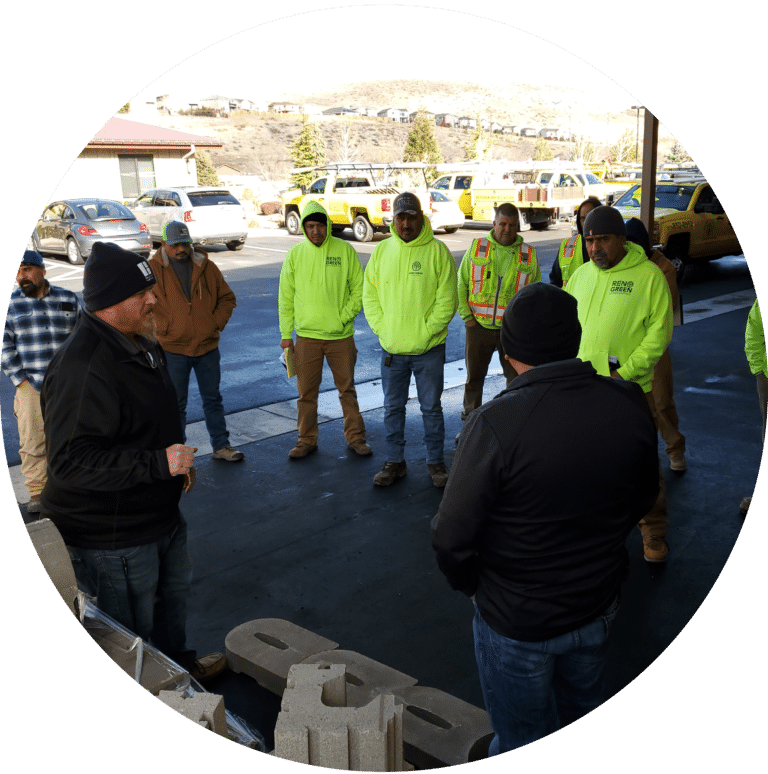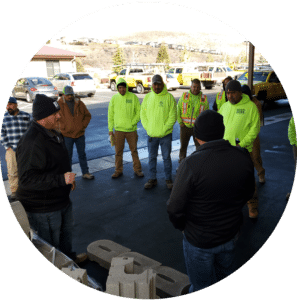 3. What certifications do the landscapers possess?
To commercially apply pesticides in the state of Nevada, it is the law for a business to have 
licensed pesticide applicators
. This is to ensure the safety of pesticide use, including proper application, storage, mixing and spill removal. Offered by UNR Extension, QWEL is a new certification to northern Nevada. QWEL professionals learn how to use water efficiently on the landscape and how to audit an irrigation system to reduce water waste and save you money. You can find a list of certified professionals at 
www.QWEL.net
. If you are getting a landscape installed, you may be getting a paver patio, walkway, firepit, outdoor kitchen or retaining wall. For these design elements, you should look for a professional with 
ICPI
 and 
SRW certification
. This ensures they know how to install paver and rock designs/hardscapes safely and accurately. The last two certifications are focused on landscape maintenance: 
Green Industry Training
 and Landscape Industry Certification. At 
UNR Extension's
 Green Industry Training, professionals learn the basics of horticulture, pest management and landscaping. 
Nevada Landscape Association's
 Landscape Industry Certification tests hands-on industry skills to ensure professionals know exactly how to operate equipment and irrigation effectively.
4. If I choose your company, do I have someone who knows me and my property?
At Reno Green Landscaping, you are assigned an account manager who intimately knows your property from small residential to large scale homeowner's associations. Your account manager is your point of contact and regularly walks your property to look for quality control issues and opportunities for improvement so you know you are getting quality work.
When you are looking for a company, ask what happens after you sign your contract. It's important to continue your relationship to create a successful partnership. You don't want to be left with no one to call when an irrigation line breaks.
We know you have a lot of options when choosing a landscape professional. By asking these important questions you can narrow your list to choose the best company for you, and we hope its Reno Green! Call us today at
775.852.8952
for a complimentary consultation! Or 
fill out an online request
 and we will contact you shortly.