When you've been in business in Reno since 1975, local takes on a whole new meaning. Though Reno Green Landscaping received new owners in 2004, we are still a family-owned and operated company. We cherish our local heritage and seek to be Reno and Sparks' local experts in everything landscaping.
Being a local company is like being part of a club. We're part of a larger group of local business owners who together make up a patchwork of eclectic, interesting and one-of-a-kind businesses. Together we are families working to build a life for ourselves, serve our community, and encourage local growth and a healthy economy.
We stand alongside businesses like the Cheese Board, a local restaurant, owned by friends who enjoy the finer things in life. We work with companies like Western Nevada Supply, an irrigation and plumbing supply store that provides us with everything we need during our busy irrigation season. And we support local non-profits like the Northern Nevada Children's Cancer Foundation, which supports our local children and their families during the hardest times.
There are so many more local businesses and non-profits that make up our local movement and each one has its special place in our economy.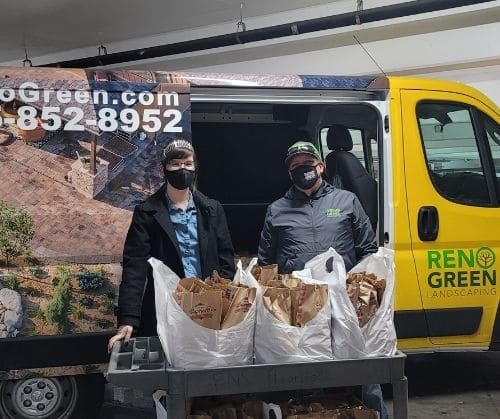 Reno Green Landscaping believes local is more than a title or descriptor. It means community, family, and friends. It's the life blood of a city and without our local businesses, our home would be a lot less special.
So why are we talking about local with you? Because 2020 took a lot from all of us, our sense of security, our favorite hangouts, and our reason to wear lipstick, but it didn't take away our local spirit. We urge you this year to visit new local places, shop at local stores and support local non-profits to keep this town's soul alive.
Local means everything to us. When you support a local business, you are supporting more than just one family but instead hundreds. You are adding to the unique and special community that is unlike any other. And you are giving rise to new dreams and ambitions in our local economy.
When selecting your next clothing store, restaurant, plumber or landscaper, look for a local company who has your needs at the forefront of their business plan.
We've compiled a list of some things you can do to support our local businesses in 2021:
Follow their social media pages, like and share their posts, events and offers
Leave positive reviews online
Take advantage of curbside pickup and delivery
Buy gift cards for local businesses to gift to friends, family or clients
Refer small businesses to friends or family
When you buy, pay full price and tip well