This is an interview with a landscape designer who's projects have won numerous awards. Reno Green's professional landscape designer, Carrie Owen, and a Reno Green construction crew supervised by our Custom Residential Superintendent, Terry Kaufman, created such an outstanding landscape that it has won 4 landscaping awards:
2018 Nevada Landscape Association Awards

1st Place – Large Residential Installation
1st Place – Hardscape
2nd Place – Water Feature
Every landscape design and installation project is fully customized for the client. Our designers take the time to learn your landscape vision. They take your style, favorite colors, and lifestyle to create a design specifically for your wants and needs.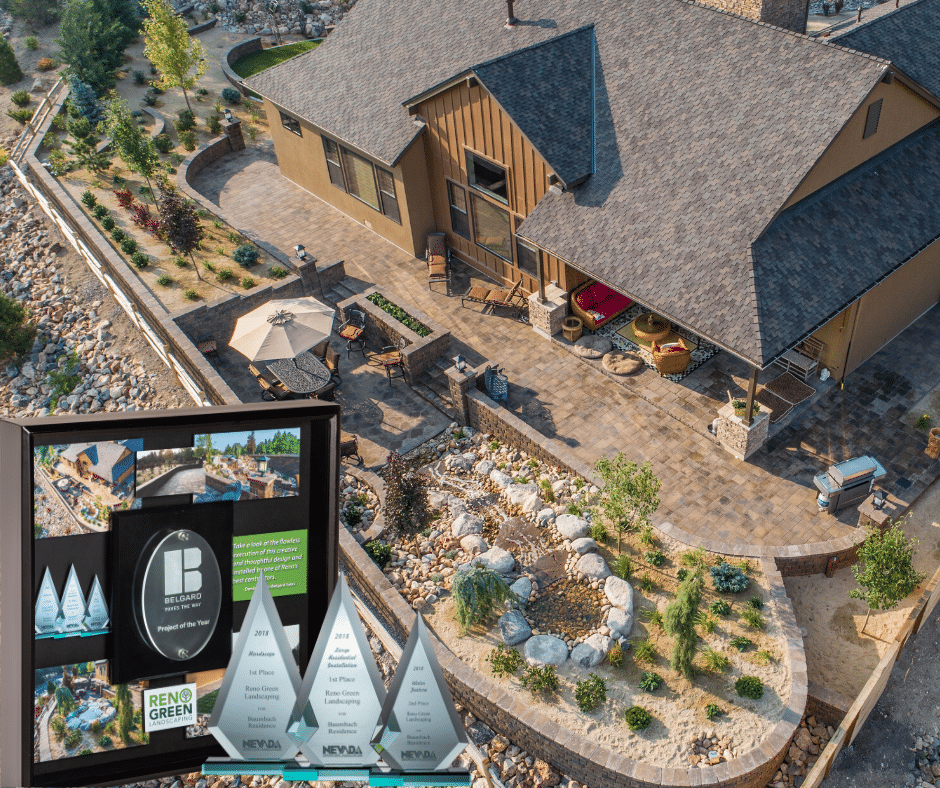 From the first meeting to the final walk through, our team strives to develop relationships with each client so we are able to meet and exceed their expectations. We took some time to interview Carrie and learn more about how this project came to be award-winning.
Tell me a little history on this project. How did it begin? Any hurdles to overcome?
Carrie: We are the front yard and common area landscape installer for the Pine Bluff development. The homeowners contacted us for a design consultation after seeing our work at the Pine Bluff model. The homeowners liked the sunken patio from the Pine Bluff model, so we planned to incorporate this from the beginning. It was top priority to include privacy and block traffic sounds because their backyard faced a very busy main road.
What was your inspiration for this design?​
Carrie: The homeowners had a clear vision of what they wanted, and we worked together to create the backyard space of their dreams!
In your opinion, what's special about this design?
Carrie: The sunken patio and large water feature that flows above it is stunning. The homeowners also wanted a turfgrass area for their grandchildren to play, so the design really brings function and beauty together.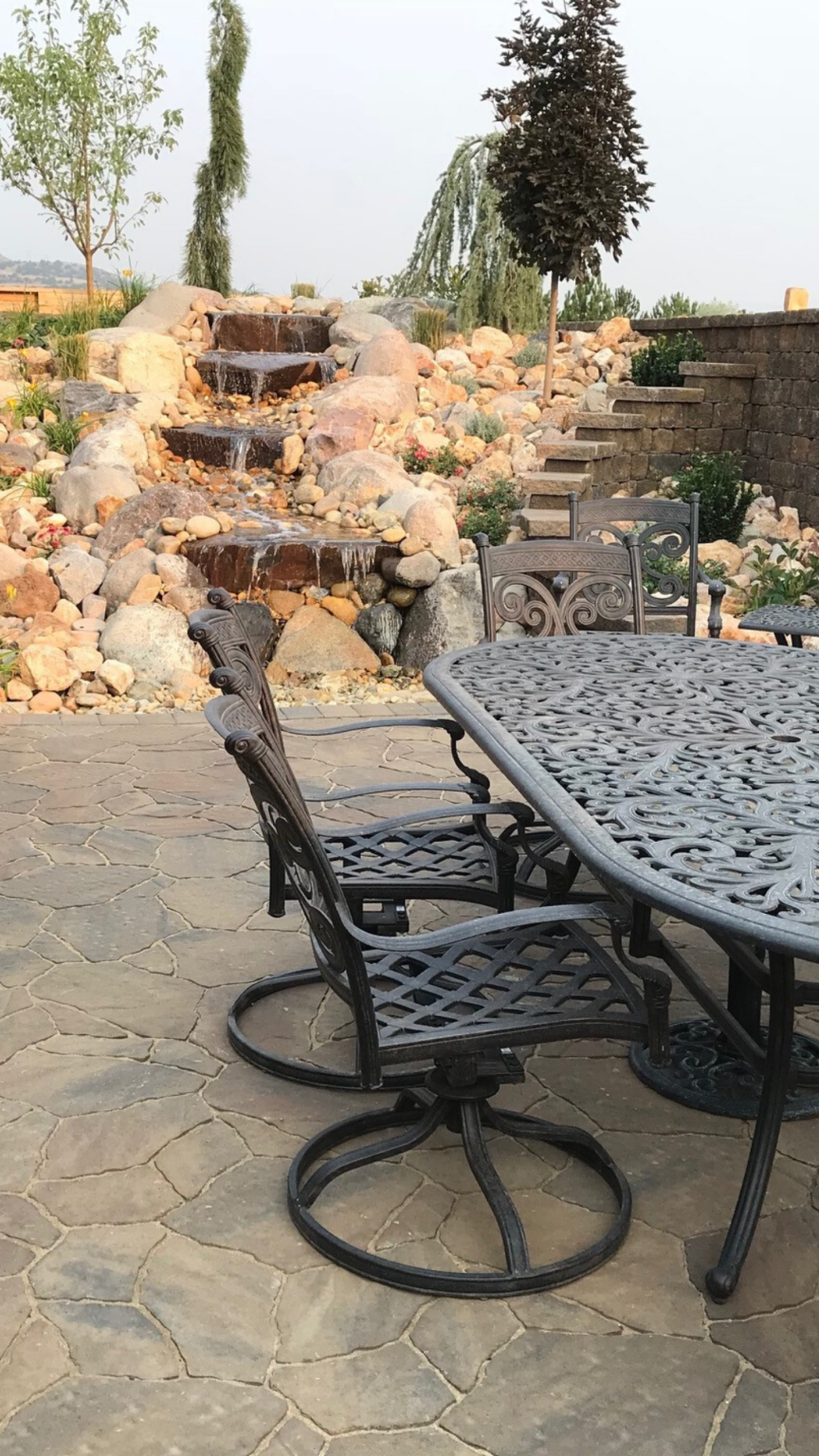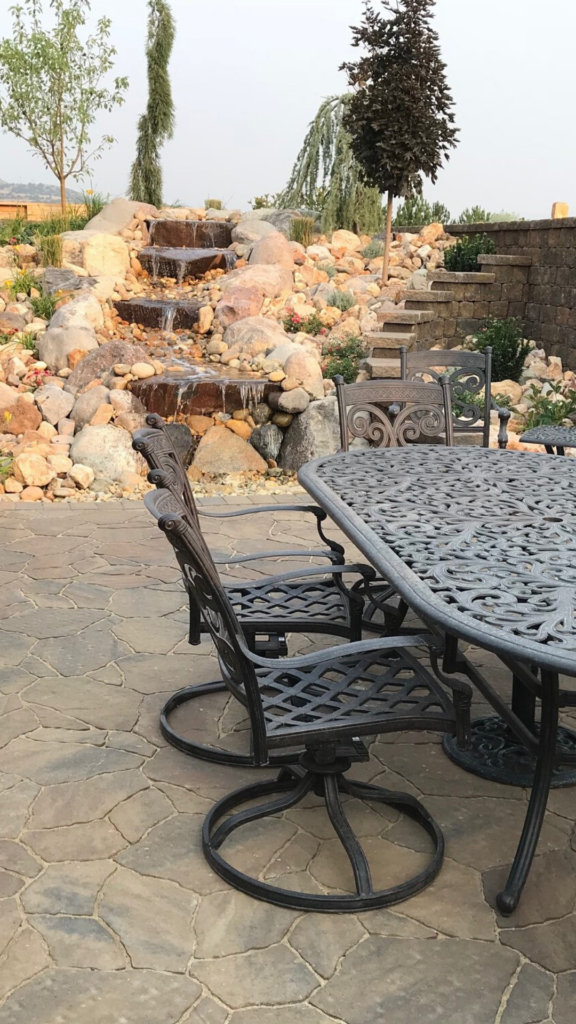 What landscape design elements did you incorporate into this design?
Carrie: As stated, there is the sunken patio and a large natural boulder water feature, but we also added walls with functional seating so they could sit while their grandchildren were playing. The hardscape work really is the shining star of this project.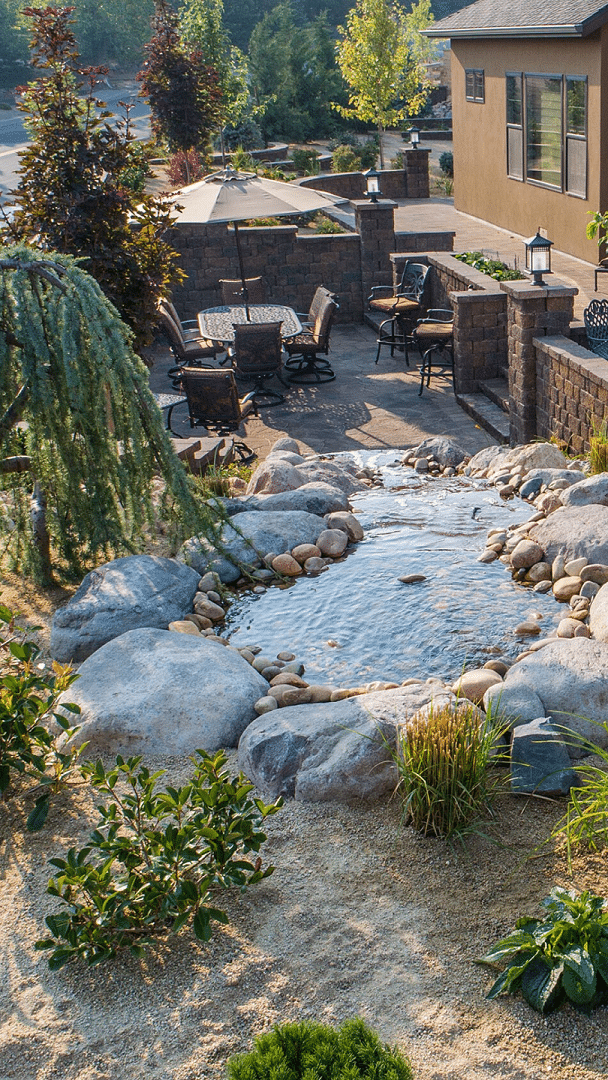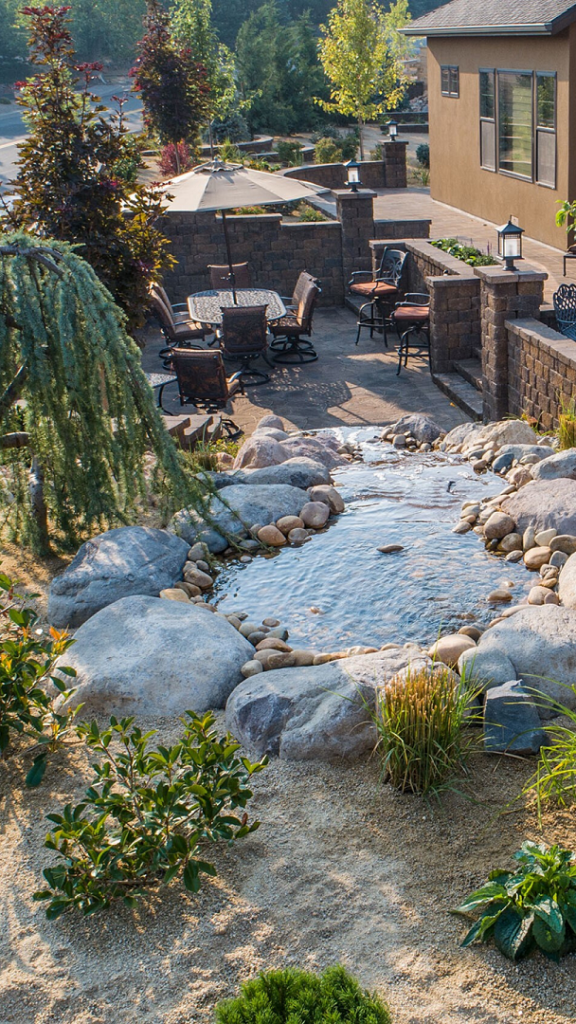 How did you combine these elements into the final design?
Carrie: The entire space works together and flows for maximum privacy, tranquility and function.
What's your design process?
Was this project's process unique to others?
Carrie: During our first meeting, we met onsite and discussed their vision for their yard. I then took this information and created the first design draft, incorporating everything we had discussed. We got back together a couple more times to fine tune the final product. Once it was perfect on paper, it was time to bring to it life. This design process is typically the same for each project. The only thing that changes is the final product which is unique to each client.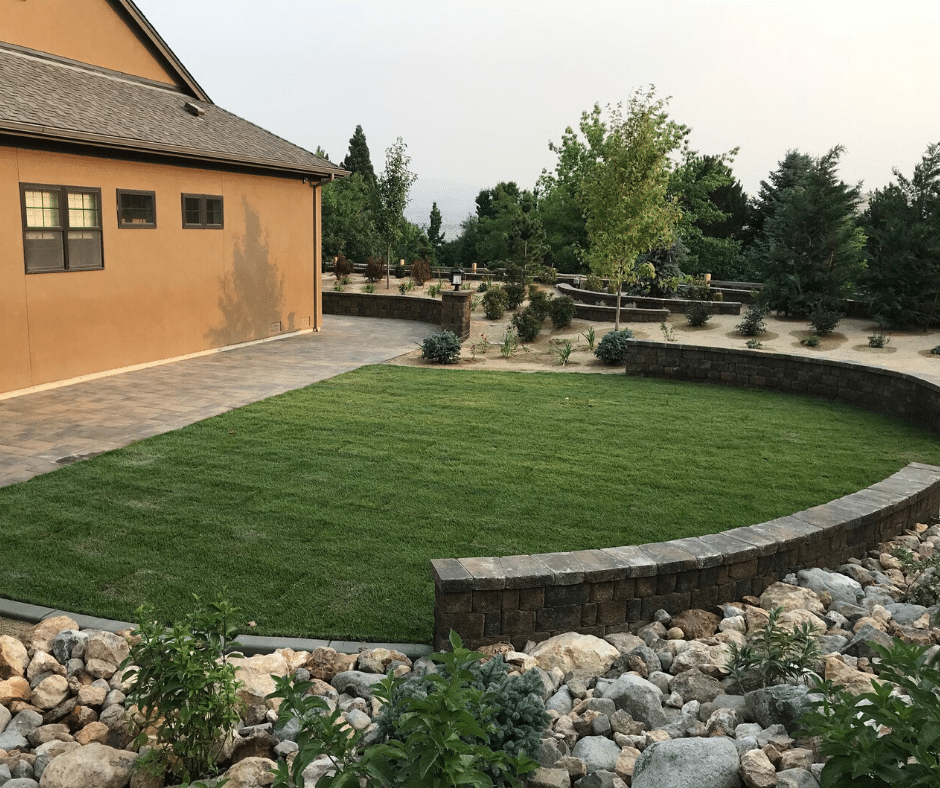 What about this design and installation do you believe is award-winning?
Carrie: I have a very special spot in my heart for these homeowners and this design. I'm so proud of the finished product. Our crew really took what was on paper and brought it to life. It exceeded my every expectation. The attention to detail, plant material selection and quality craftsmanship were all part of this award-winning project.
Staycation – "a period in which an individual or family stays home and participates in leisure activities."
Are you working from home? Plan your next staycation by creating the backyard of your dreams!
We know you may be concerned about meeting in person during this time, so Reno Green now has virtual landscape design consultation services. Simple tell us what you like and upload some pictures of your property. We'll do the rest!